Tastemade's Dutch Baby Pancake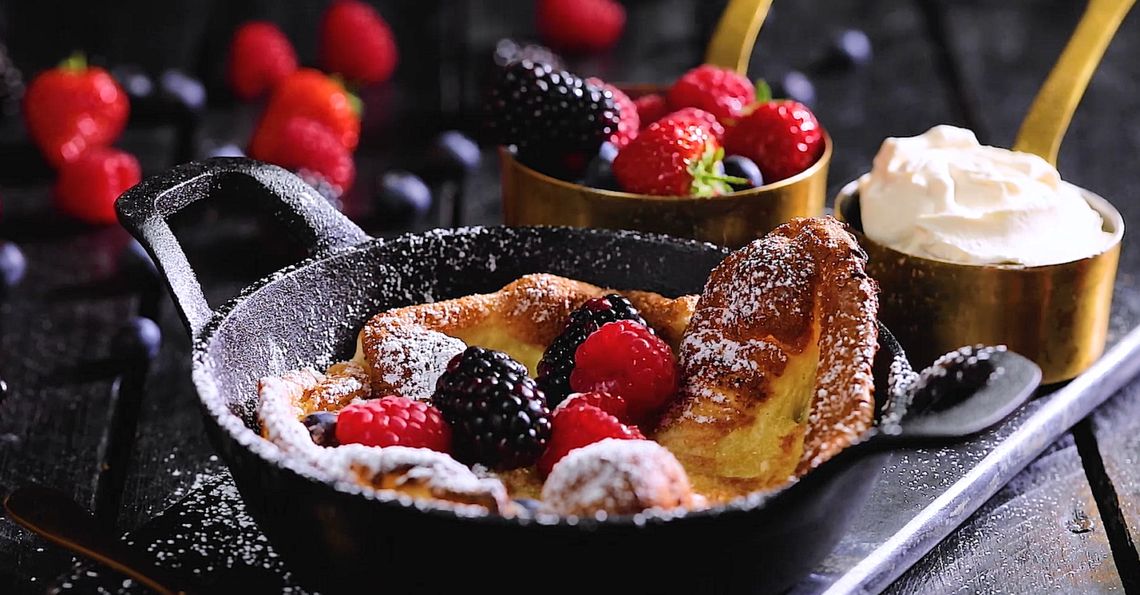 Serves: 2
Prep: 10 mins
Cook: 15 mins
Stuck for Pancake Day egg-spiration? Crack into Tastemade's Dutch Baby Pancake recipe for breakfast, lunch or dinner. Always look for the red British Lion mark on egg shells and packs to ensure your eggs have been produced to the highest standards of food safety. You can find them in your favourite supermarket.
Ingredients
50g unsalted butter
125ml milk
65g plain flour, sieved
15g caster sugar
2 British Lion eggs
1 tsp vanilla extract
A pinch of salt
50g blueberries
50g blackberries
50g raspberries
50g strawberries, hulled
Icing sugar, to dust
A few mint sprigs, to garnish
Method
Blend the milk, flour, sugar, eggs, vanilla and salt together in a blender until completely smooth then set aside to rest, at room temperature, for 30 minutes.

Preheat the oven to 220 C / 200 C fan.

Heat a medium high sided frying pan over medium heat and add in half the butter. Allow the butter to melt and bubble and while it's hot pour half the batter into the centre of the pan.

Place the pan on the middle shelf of the oven and bake for 12-15 mins until the pancake has risen and become golden. Repeat this process with the rest of the batter.

Remove the pan from the oven and serve the pancake while still hot with the berries and a generous dusting of icing sugar.
Click on the stars to rate this recipe:
Video: Tastemade's Dutch Baby Pancake