Tastemade's Healthy Veggie Scotch Eggs Christmas Tree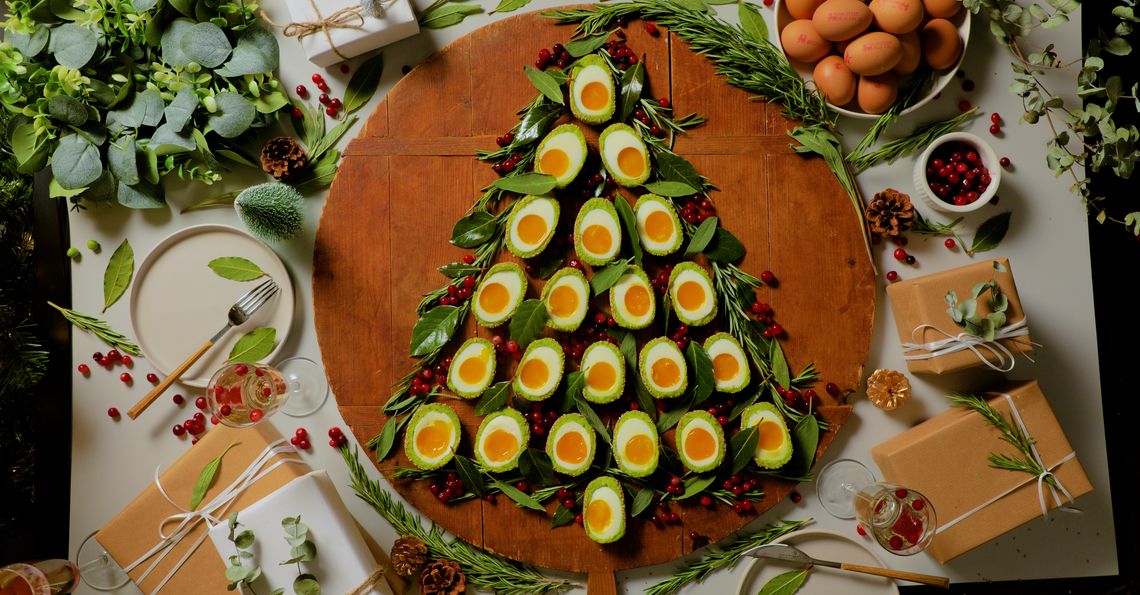 Serves: 6
Prep: 10 mins
Cook: 20 mins
Ingredients
For the Scotch Eggs
11 British Lion eggs
400g broad beans, podded & cooked
400g peas, cooked
200g Cheddar
75g breadcrumbs
100g toasted sesame seeds
To decorate
Rosemary sprigs
Bay leaves
Sage leaves
Cranberries
Sunflower oil, for frying
Method
Cook the British Lion eggs in boiling water for 5 minutes before plunging into iced water to cool immediately. Leave to cool for a couple of minutes before peeling and drying well with kitchen paper.
Blend together the peas, broad beans, Cheddar, breadcrumbs and some salt and pepper in a food processor until you have a chunky puree. Divide the mix into 11 balls, then flatten each ball with the palm of your hand and use it to evenly wrap around an egg. Repeat with the remaining 10 eggs, then roll each egg generously in the toasted sesame seeds.
Cut each egg in half, then arrange on a board or large platter in a Christmas tree design.
Use the rosemary, bay, sage and cranberries to decorate.
Click on the stars to rate this recipe: