Toffee apple crêpes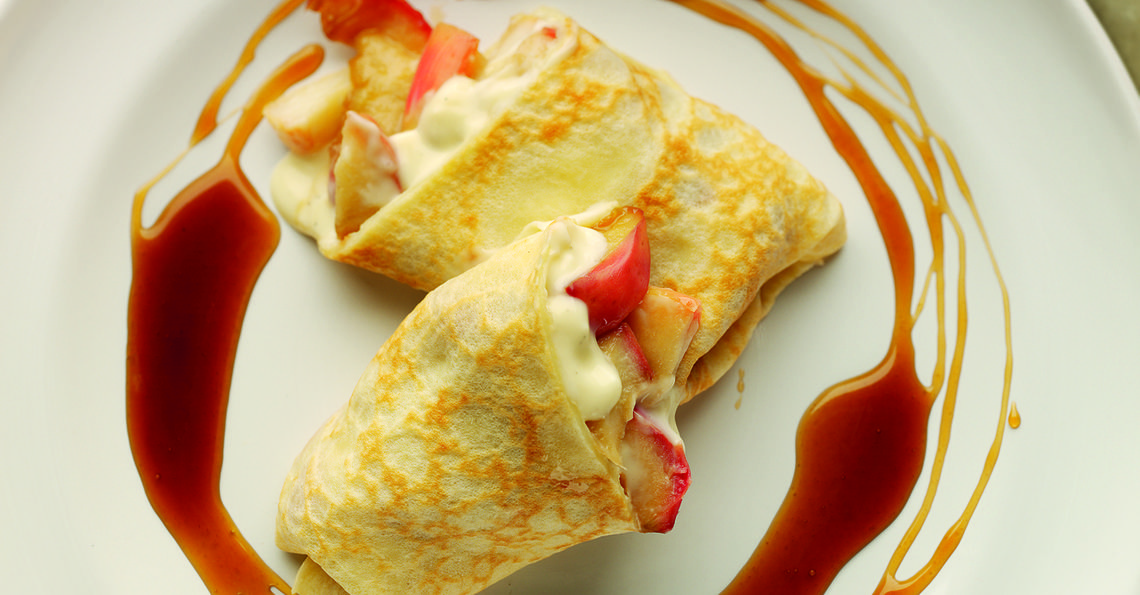 Serves: 4
Prep: 15 mins
Cook: 20 mins
Ingredients
For the pancakes:
40g/1½ oz. plain flour
A pinch of salt
1 large British Lion egg
100ml/4 fl oz. milk
A little oil for frying
For the filling:
2 eating apples
50g/2oz butter
50g/2oz light brown soft sugar
1 x 500g tub of pre-made vanilla custard
Method
To prepare the filling, quarter and core the apples and cut each quarter of apple into about 4 wedges. Melt the butter and sugar in the frying pan and stir together until a caramel sauce forms. Add the apple wedges and turn to coat in the sauce. Cook for 4-5 minutes, stirring until the apples are tender.
Pour the milk into a small pan, add the butter and flour, bring to the boil, using a balloon whisk to constantly stir the mixture until sauce forms, boils and thickens. It will be very thick. Cook for 1 minute over a low heat, then remove from the heat and transfer to a bowl.
Place the flour, salt and eggs in a large bowl. Add half of the milk and whisk well until the mixture is lump free. Add the remaining milk and whisk again until smooth. If you prefer, place all ingredients in a food processor and blend until smooth. Pour the batter into a jug.
Heat a 20cm/8in diameter non-stick frying pan until hot, drizzle a little oil over the centre and wipe around the pan with a piece of kitchen paper. Pour a little of the batter into the pan and immediately tilt the pan to spread the batter thinly and evenly over the base. Cook for 1-2 minutes or until the top is set and the base is golden.
Flip over the pancake and cook for a further 1-2 minutes or until the base is golden. Transfer to a plate, cover with foil and keep warm. Use the batter to make a further 3 pancakes in the same way.
Remove from heat. Use a slotted spoon to transfer the apple slices to a bowl and pour the sauce into a jug. Lay four warm pancakes out on a board, spoon 2 tbsp of custard down the centre of each pancake then top with the apple slices, laying them in a row.
Fold the two sides of the pancake in over the apples then roll up the pancakes enclosing the filling. Cut each pancake in half and arrange in the centre of a plate. Drizzle a little caramel sauce around the pancakes. Spoon the remaining custard into a jug and serve alongside the pancakes with the toffee sauce.
Click on the stars to rate this recipe: