Tom Daley's Rainbow Chard Quiche with Roasted Garlic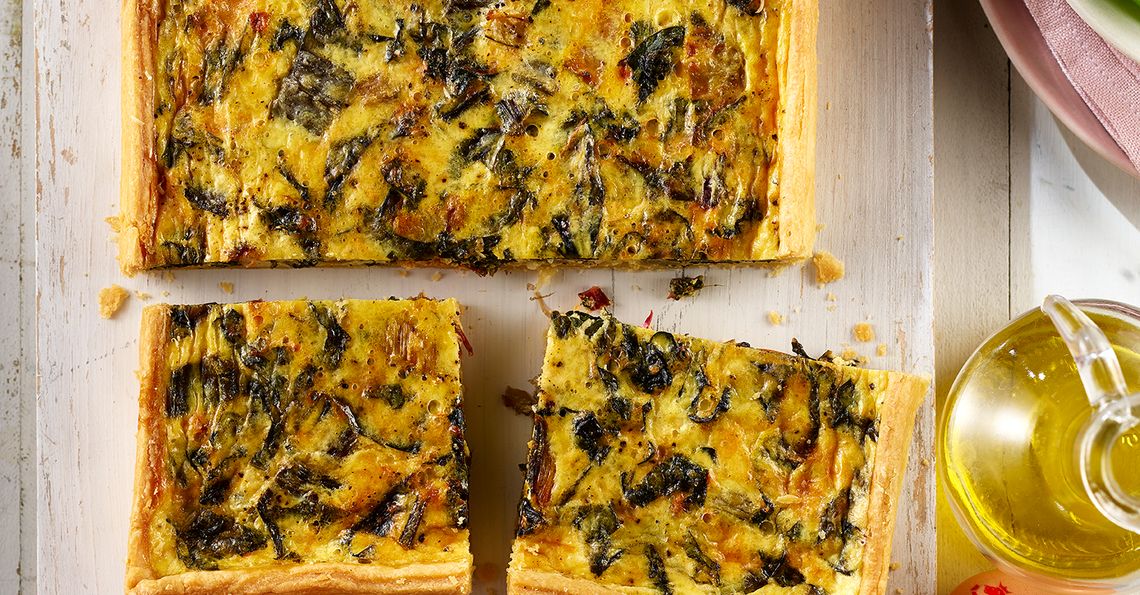 Ingredients
1 x 320g sheet of ready rolled shortcrust pastry
1 tbsp olive oil
200g rainbow chard, stalks cut into 1 inch lengths, leaves finely shredded
1 tbsp roasted garlic paste or 1x large clove of fresh garlic crushed
4 British Lion eggs, whisked
150g crème fraîche
100ml whole milk
100g parmesan, finely grated
1 tsp flacked salt
Quick radish pickle
150g radishes, finely sliced
100ml cider vinegar
100ml cold water
50g caster sugar
1 tsp flaked salt
To serve: baby leaf salad
Method
Preheat the oven 190C fan/ 200C conventional. 
Line an 18 x 28cm tart tin (or a 23cm round tart tin) with pastry, trim any excess pastry from the edges and prick the base all over. Refrigerate for 15 minutes.
Heat the olive oil in a frying pan and fry the rainbow chard stalks for 5 minutes until they begin to soften. Add the garlic paste or fresh garlic and shredded leaves and cook for a few more minutes until softened. Season with salt and pepper and set aside to cool. 
Reserve 1 tbsp of whisked egg for the pastry case, then whisk together the remaining eggs with the crème fraîche, milk and parmesan. Set aside.
Remove the pastry from the fridge and line it with baking paper. Fill with baking beans, dried pulses or dried rice and bake in the oven for 20 minutes. Remove the baking paper and beans and brush over the reserved egg (this will seal the base so the filling doesn't run out). Return the base to the oven for another 4-5 minutes to crisp up the base. Remove from the oven. 
Scatter the cooked chard over the base of the tart shell then carefully pour the egg mixture in. 
Bake the quiche for 30-35 minutes until golden and puffed up. 
To make the pickle, mix together the vinegar, water, salt and sugar then pour over the radish slices. Set aside for at least 30 minutes.
Remove the quiche from the oven and leave to settle for 15 minutes. 
Serve slices of quiche with baby leaf salad and the pickled radishes.
 
Click on the stars to rate this recipe: