Veggie baked eggs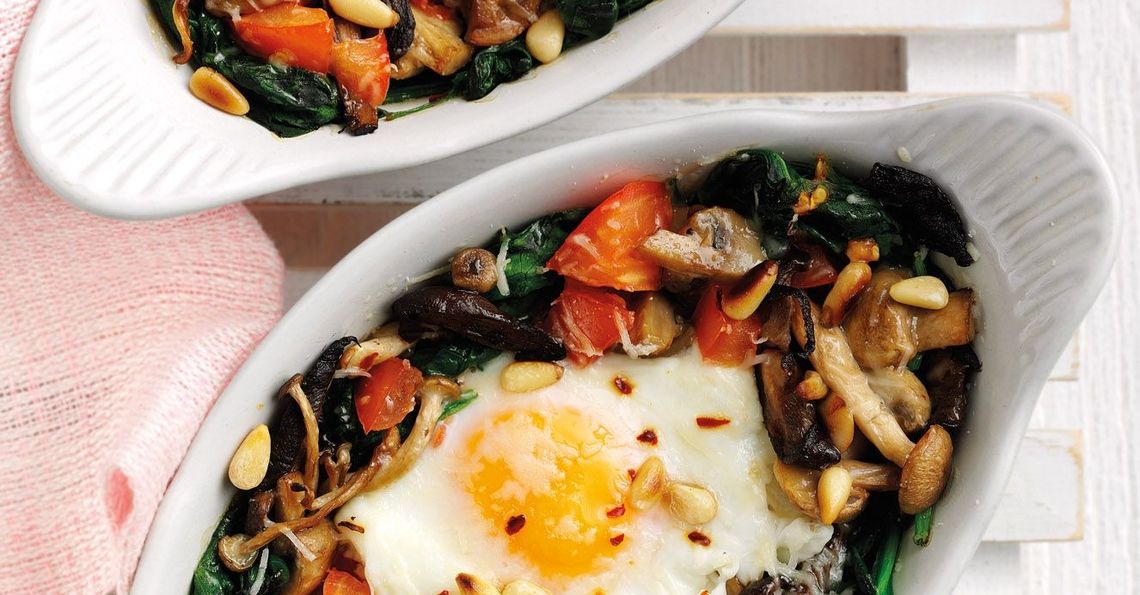 Serves: 2
Prep: 5 mins
Cook: 15 mins
Ingredients
80g spinach, washed
150g chopped tomatoes
1 tbsp of olive oil or coconut oil
1 tsp chilli flakes
4 British Lion eggs
About 80g of mushrooms – a mix of wild mushrooms is nice – sliced or quartered
1 dessert spoon Parmesan, freshly grated
1 tsp lightly toasted pine nuts, chopped
Method
Pre-heat the oven to 200C/180C fan.
Fry the mushrooms in the olive oil until caramelised.
Heat a small saucepan and add the spinach. If you have just washed the spinach then there is no need to add any water to the pan – there will be enough moisture on the leaves.
Divide the cooked spinach between two dishes or four small ramekins. Add the cooked mushrooms. Put a generous spoon of chopped tomato into each dish.
Make wells in the dishes and crack in the eggs into each dish, either two for a larger dish or one in each using four smaller dishes. Sprinkle over a pinch of chilli flakes, the grated Parmesan and the pine nuts. Bake for 15 minutes in the oven or until the eggs are just cooked.
Nutritional information, per serving:

| Calories | Protein | Fat | Saturates | Salt |
| --- | --- | --- | --- | --- |
| 260 | 18.9g | 19.4g | 4.5g | 0.9g |
Click on the stars to rate this recipe: