Brilliant Boiled Egg Recipes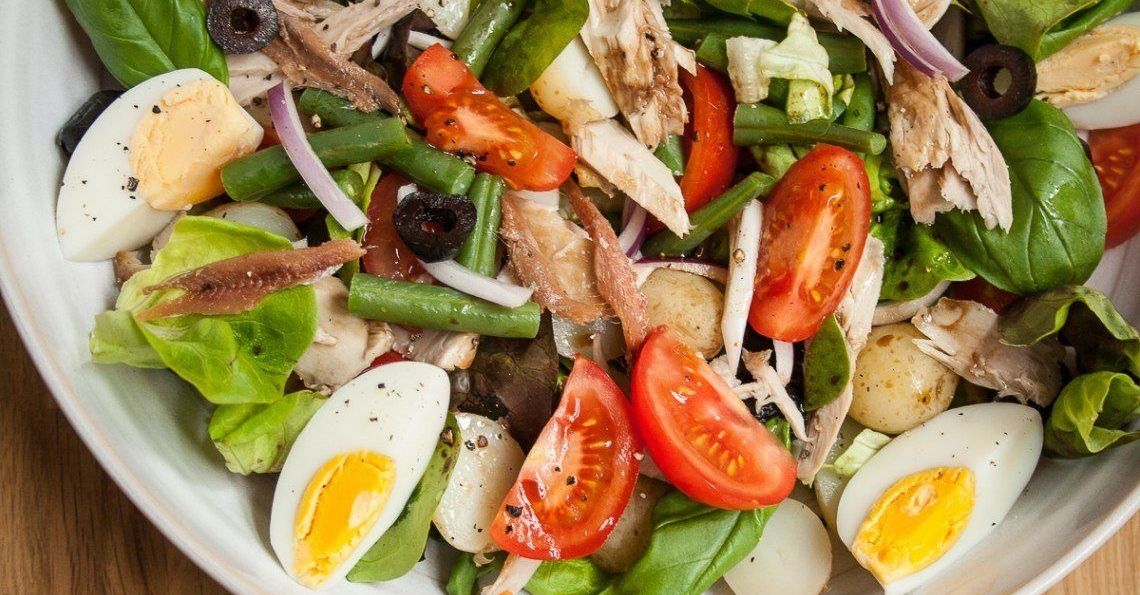 Eggs are often described as a convenience food. Although warm boiled eggs with soft bright yolks are a crowning glory to many dishes, hard-boiled eggs are highly versatile too.
Cooking up a bulk batch of hard-boiled eggs can be a convenient way to get a head start on making quick tasty meals for home and away. Simply cool them down and store in the fridge for a few days until you're ready to peel off their shells and go. Here are some ideas for recipes using hard-boiled eggs throughout your week...
Salads with boiled eggs
Salad Niçoise (pictured) is a traditional French dish you'll find on every menu in Mediterranean Nice. Opinion varies on which are the essential component parts of a Salad Niçoise but few people will disagree that it must always include boiled eggs.
My ingredient list for the ultimate Salad Niçoise includes the following; hard boiled eggs in quarters, tuna (preferably fresh grilled steaks rather than tinned), tomatoes, black olives, capers, anchovies, green French beans, red onion, green leaves in a vinaigrette dressing. If serving as a main course I would also add boiled new potatoes. If you're eating it as a packed lunch, you could fill up a ciabatta bread roll for Nice's traditional "pain bagnat" also known as a Salad Niçoise sandwich.
The Cobb Salad is an American favourite comprising chopped hard boiled eggs alongside other chopped ingredients. Typically these are also avocado, tomato, chicken, onion, bacon and blue cheese. If you have trouble remembering that list, the initials spell out EAT COBB as a handy reminder.
Two more salad recipes using hard boiled eggs include egg, quinoa and kale salad and egg and spinach salad. Both of these recipes are excellent ways to combine different types of protein in one dish for maximum nutritional benefit and keep you fuller for longer.
Snacks or packed lunches with boiled eggs
Another favourite way to package up a hard boiled egg is within a meaty layer of sausage meat - popularly known as Scotch Egg. Vegetarians need not miss out with this meat free version of falafel scotch eggs with a thick spicy chick pea coating. If you prefer biting into your hard boiled egg without its coat on then pickled eggs in spiced vinegar can be stored in their jars for up to four weeks for the ultimate convenient snack.
Family meals with boiled eggs
If you like satay you'll love Indonesia's Gado Gado dish. It means literally "mix mix" and comprises hard-boiled eggs, peanuts, beansprouts, onion, chilli, green beans and potato.
Closer to familiar comfort foods, a fish pie can be perked up with some hard boiled eggs in the mix. Try this Russian Fish Pie or a budget friendly Tuna and Egg Pie packed with store cupboard ingredients.
Article by Sarah Trivuncic of Maison Cupcake, one of our Eggcentric blog ambassadors during 2016. The Egg Recipes website has all the tips you need to cook perfect boiled eggs however you like them. For yet more boiled egg recipes check out the even bigger range we have on our website.