Transforming yesterday's takeaways into today's feast – just add eggs!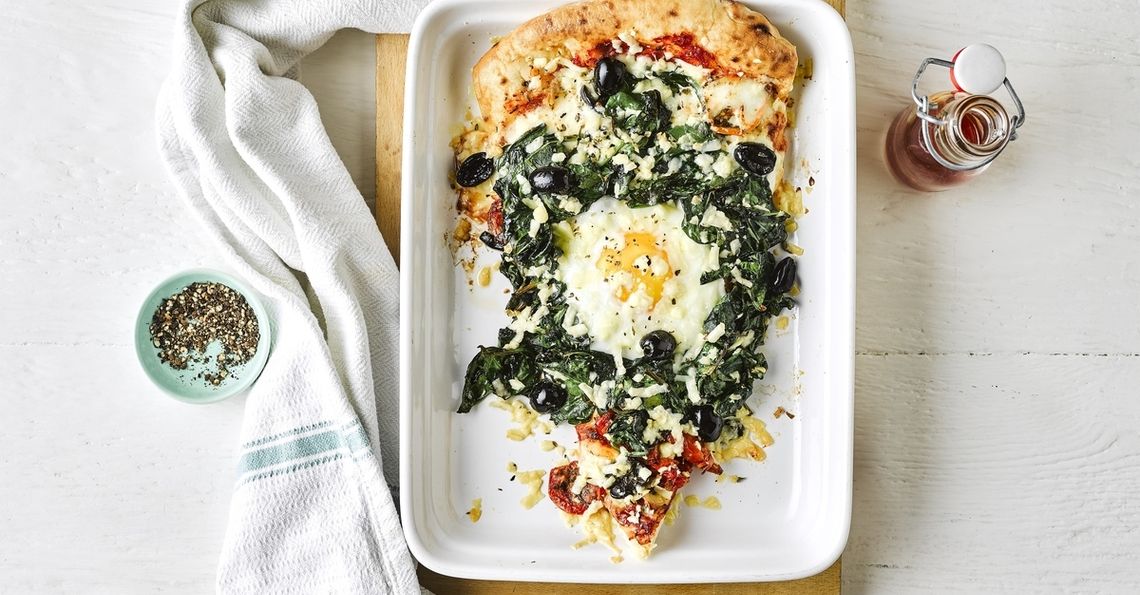 Reduce food waste, save money and make one meal into more
Lockdown has seen demand for takeaways soar, but they aren't always the best option for a healthy bank balance. Enter food-hack heaven by taking your takeaway leftovers and transforming them into new tasty, purse-friendly meals that reduce food waste with these egg-based makeovers!
Breakfast Pizza with Eggs, Breakfast Tortilla Sandwich, Cheesy Chips Omelette, Curry Frittata and Teriyaki Noodle Soup – as well as Dal Fritters with Poached Eggs and Naan Croque Madame created in collaboration with MOB Kitchen – prove that you can cleverly make a meal out of any takeaway leftovers, by just adding eggs. Whether it's a slice of pizza, a vegetable curry or even a portion of chips, eggs are the perfect partner to revamp leftovers into something new, tasty and economical.

Breakfast Pizza with Eggs
Rejuvenating last night's pizza and making it perfectly acceptable for breakfast, with just a handful of spinach leaves, one egg and a pinch of dried oregano or mixed herbs.

Breakfast Tortilla Sandwich 
The perfect breakfast pick-me-up sandwich, stuffed with those easily forgotten leftover sides and condiments like sour cream, tomato salsa and jalapeno peppers! Simply place a two-egg omelette onto warm tortilla bread, layer up with ripe avocado and cheese, throw on those leftovers, wrap it up and dig in!
Cheesy Chips Omelette 
A classic takeaway favourite made into a brand-new meal, with eggs. Transform leftover chips into a hearty cheesy eggy delight, best served with a side of fresh salad leaves and cherry tomatoes for a British take on a Spanish omelette.

Curry Night Frittata
Using leftover vegetable curry such as saag aloo to create a tasty golden egg-filled frittata, topped with fresh coriander and red chillies. Best served with some leftover naan and chutneys. 
Teriyaki Noodle Soup
Using a leftover noodle dish as the base, such as Chow Mein or Pad Thai, make the perfect comforting soup topped with eggs to help to turn this dish into a filling meal. Then add a sprinkle of chilli flakes if you like it spicy.
MOB Kitchen's Leftover Dal Fritters with Poached Eggs
Revamping your usual Indian takeaway into crispy fragrant fritters that will use all your leftovers in one meal, topped with perfectly poached eggs for a delicious brunch. Dollop on raita and mango chutney, and a sprinkle of coriander. 

MOB Kitchen's Leftover Naan Croque Madame
Putting an Indian twist on a French classic, topped with a perfectly runny British Lion egg yolk – a true fusion of cultures.

Always look for eggs bearing the British Lion mark, which guarantees that they have been produced to the highest standards of food safety. All Lion Quality eggs come from British hens vaccinated against salmonella, are fully traceable and have a 'best before' date on the shell as a guarantee of freshness.