Austrian Kaiserschmarrn pancakes with caramelized apples and berry compote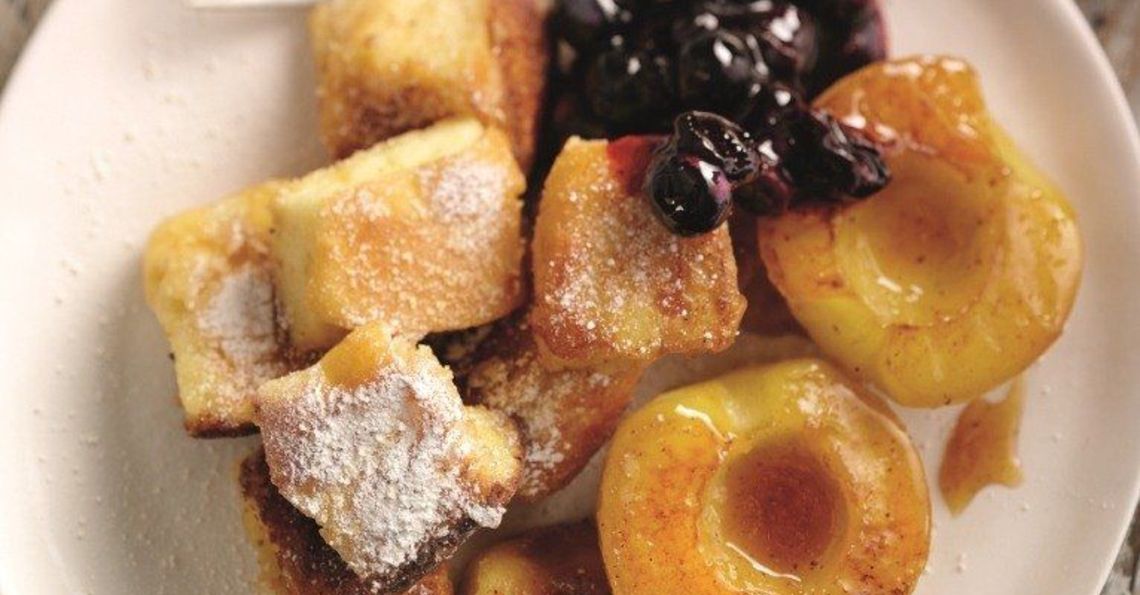 Serves: 4
Prep: 8 mins
Cook: 20 mins
Ingredients
3 British Lion eggs, separated
200g plain flour
375 ml milk
1 tsp vanilla extract
The zest of 1 orange
60g unsalted butter
3 tbsp icing sugar
4 tbsp natural yogurt
For the apples:
2 Bramley apples, peeled, cored and cut in half
25g unsalted butter
½ tsp ground cinnamon
3 tbsp honey
For the berry compote:
150g blueberries
1 tbsp caster sugar
1 tsp vanilla extract
½ tsp arrowroot
Method
Pre heat the oven to 180C.
First make the caramelized apples by heating the butter in a frying pan. When foaming add the apples, cut side down.  Leave for 3-4 minutes until taking on some colour then add the cinnamon and honey.  Keep cooking on a medium heat until the apples are tender and the honey is golden brown and sticky.  This will take around 5 minutes.
Make the compote by placing ¾ of the blueberries in a small saucepan. Add the sugar, vanilla and a tablespoon of water.  Cook until the blueberries start to "pop." Mix together the arrowroot and a teaspoon of water then add to the blueberries.  Bring back to a simmer, stirring all the time until thickened then remove from the heat and stir in the remaining blueberries.
Make the pancakes by whisking the egg whites to soft peaks.
Place the flour in a bowl then add the egg yolks, milk, vanilla and orange.  Whisk together until you have a smooth batter then fold in the egg whites.
Heat the butter in a medium frying pan. Pour in the batter and cook on one side until golden brown. Then place in the oven for 5 minutes until set. 
Once set, tear or cut the pancake into bite size pieces, sprinkle with icing sugar then continue cooking until the edges are golden brown and crispy.
Remove the torn pancake from the pan, dust with icing sugar then serve with the warm caramelized apples, compote and yogurt.
 
Click on the stars to rate this recipe: