Breakfast sizzle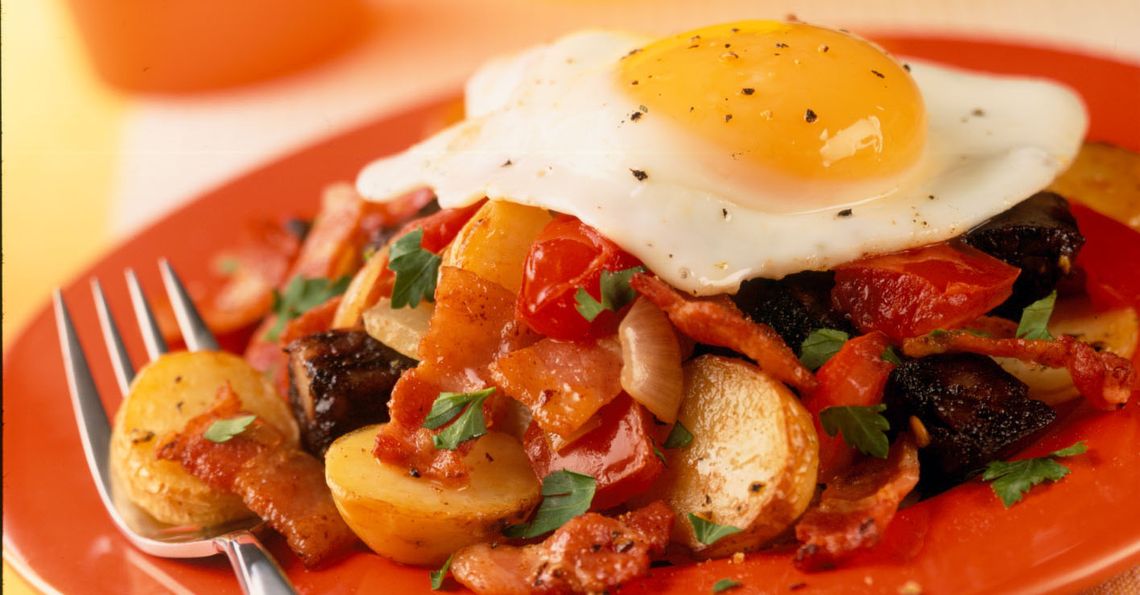 Serves: 4
Prep: 5 mins
Cook: 15 mins
This brunch idea would also be great for lunch, quick and easy to prepare. 237 calories per portion.
Ingredients
45ml / 3 tbsp olive oil
450g / 1lb cooked new potatoes, sliced
4 rashers back bacon, de-rinded and sliced
100g / 31/2 oz mushrooms, sliced
175g / 6oz cherry tomatoes, halved
4 large British Lion eggs
salt and freshly ground black pepper
Method
Heat 1 tablespoon of the oil in a large non-stick frying pan. Add the potatoes and for 4 minutes, stirring occasionally. Add the the bacon and mushrooms and cook over a high heat for 4-5 minutes or until golden. Stir in the tomatoes and cook for another minute. Season and transfer to a dish. Keep warm. Wipe out the pan, add the remaining oil and when hot, carefully crack in the eggs into the pan. Fry over a medium heat until cooked and to your liking. To serve, divide the potato and bacon mixture between four warm plates and top each with a fried egg. Serve immediately.
Click on the stars to rate this recipe: