Chilli cheese egg wrap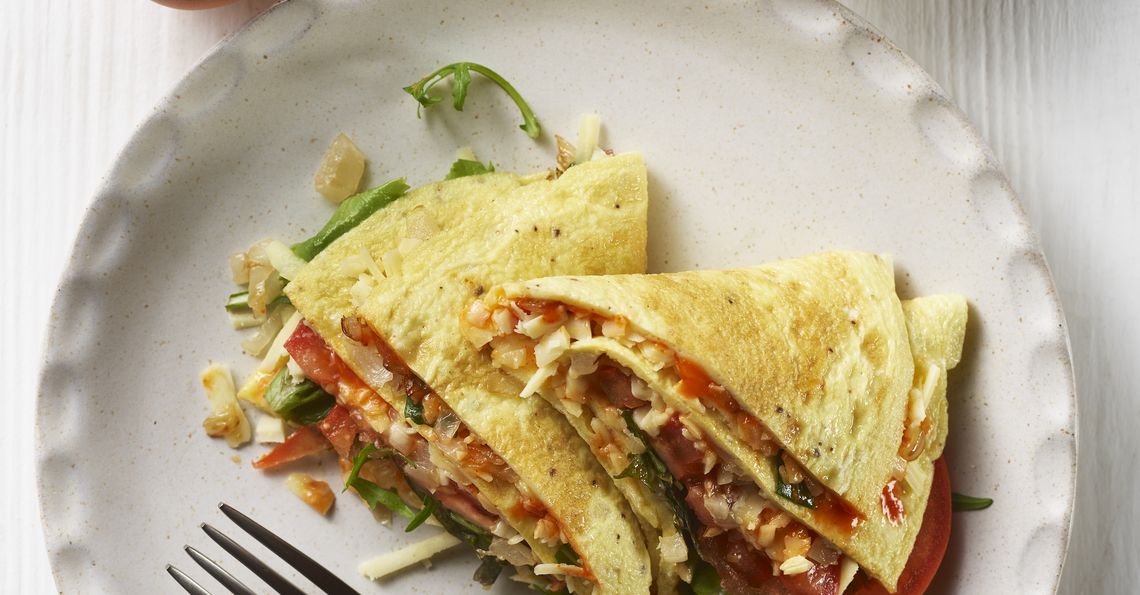 Ingredients
4 tsp vegetable oil
1 small or 1/2 an onion, chopped
2 medium British Lion eggs
salt and ground black pepper
a little chilli sauce
25g mature grated cheddar cheese
1 small tomato, sliced
a handful of salad leaves
Method
Heat half the oil in a medium sized pan, add the onions and cook for 3 minutes, stirring until they are soft and golden. Transfer the onions to a plate, and wipe out the pan. 
Beat the eggs with a little seasoning. Add the remaining oil to the pan, pour the British Lion eggs in an even layer, scatter over the onions. Cook over a medium heat for 2 minutes until the base is golden and top set. Remove the pan from heat.
Tip the omelette onto a clean board onions up and make a cut with a knife into the centre of the omelette. Spread a little chilli sauce over the warm omelette then sprinkle the cheese on the first quarter, top with the tomato on the next the salad on the next.
Fold the omelette over in the quarters, to layer up the filling and make a neat fan shaped wrap then cut in half.
Serve straight away with more chilli sauce, optional. 
Click on the stars to rate this recipe: