Parma ham bruschetta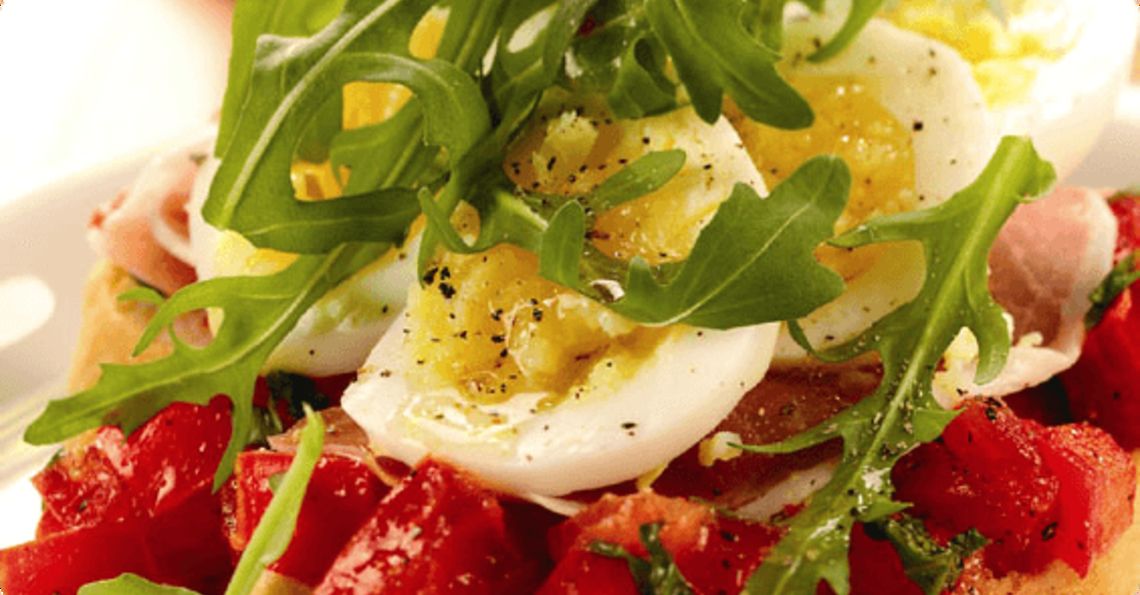 Serves: 1
Prep: 5 mins
Cook: 6 mins
Parma ham bruschetta is perfect for that special brunch or lunch.
Ingredients
1 large British Lion egg
2 thick slices ciabatta bread weighing total 50g/2oz
5ml/1 tsp olive oil
1 large tomato, seeded and diced
15ml/1 tbsp snipped fresh basil
salt and freshly ground black pepper
1 slice Parma ham, halved
handful fresh rocket leaves
15ml/1 tbsp virtually fat free vinaigrette style dressing
Method
Place the egg in a small pan of cold water. Bring slowly to the boil, then cook for 6 mins. Drain, rinse in cold water, tap the shell all over and remove. Slice the egg.
Brush both sides of the bread with the oil and cook under a hot grill until golden and crisp on both sides. Mix the tomato and basil with plenty of seasoning.
Divide the tomato between the bread slices, top each with the ham and eggs. Top with a handful of fresh rocket. Finally drizzle a little dressing over each. Serve immediately.
Click on the stars to rate this recipe: