Fried egg burgers with smashed avocado, crispy potato pancake and smoked paprika sauce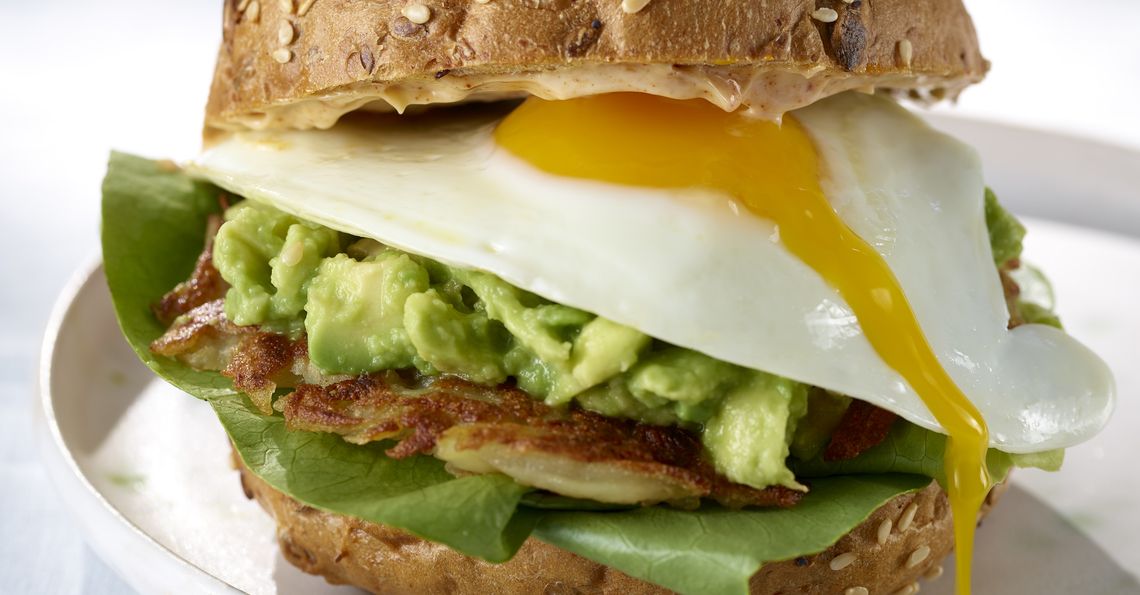 Serves: 2
Prep: 15 mins
Cook: 15 mins
Ingredients
2 wholemeal/seeded rolls
1 avocado, peeled, stone removed
1/2 lemon juiced
1 medium sized potato, peeled and grated
1 tbsp plain flour
2 tbsp of sunflower/rapeseed oil
2 large British Lion eggs
1 knob of butter
1/2 tsp hot smoked paprika
2 tbsp mayo
Salt
Pepper
Lettuce leaves (of your choice)
Method
1.    In a small bowl, using a fork smash the avocado with lemon juice. Season to taste with salt and pepper.
2.    Mix the grated potato with a pinch of salt and leave for a minute until it starts releasing the water. Strain and transfer to a small mixing bowl. Combine with plain flour. Heat up the oil on a small frying pan and spoon over the potato mix (roughly 2 tablespoons for each – you want your pancakes to be the size of the bun). Fry on a medium heat for about 3 minutes each side.
3.    Cut the buns in half and toast them in a toaster or in the oven, under the grill. 
4.    In a small frying pan melt the butter and fry the eggs till the egg white sets, but the yolk is still runny.
5.    Mix the mayo with smoked paprika until well combined.
6.    Assemble the burgers, starting with lettuce leaves on the bottom, potato pancake, then a layer of smashed avocado, fried egg, a tablespoon of paprika mayo and finally - top of the bun.
 
Nutritional information, per serving:

| Calories | Carbs | Protein | Fat | Saturates | Salt |
| --- | --- | --- | --- | --- | --- |
| 565 | 30.9g | 13.0g | 44.3g | 8.2g | 0.9g |
Click on the stars to rate this recipe: