Omelette sandwich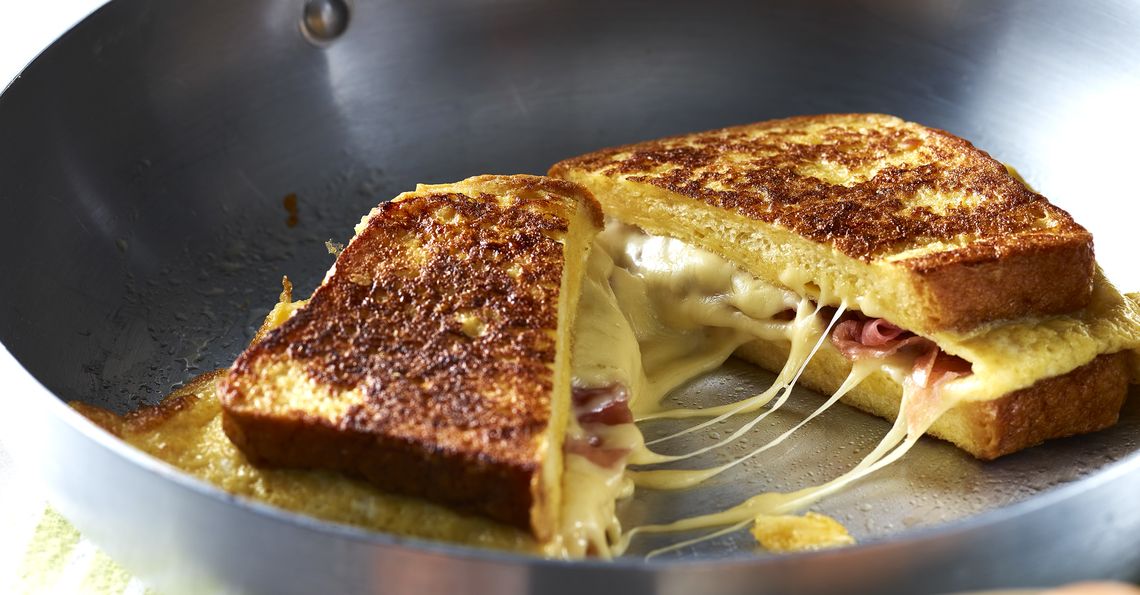 An indulgent breakfast, brunch or lunch. 
Ingredients
2 British Lion eggs, beaten
2 small slices of bread
1 tbsp sunflower oil
2 slices cheese e.g., Emmental
2 slices prosciutto or sliced sausage
Method
Beat eggs in a shallow bowl and season with salt and pepper.
Heat oil in a medium non-stick frying pan, over a medium heat. 
Dip both slices of bread into the egg, coating both sides then pour out the remaining egg into the frying pan, swirling to coat the base. Add the two sliced of bread on top, ensuring both slices are parallel with the bottom edges facing each other, leaving a 3cm space between both slices. Continue cooking for up to a minute until the omelette is golden underneath. 
Using a large spatula, turn the whole omelette over so that the uncooked side of the bread is touching the base of the pan. 
Add a slice of cheese onto each side of the omelette (level with the bread below), and top with a slice of prosciutto. 
Fold over one half of the omelette to create a sandwich and cook for a few more secs until golden underneath. 
Turn the whole sandwich over and cook again until golden. 
Transfer to a warmed plate and leave for a minute before cutting in half.
Cooks tips
You can swap prosciutto for sliced chorizo or tomato.
Click on the stars to rate this recipe: