Christmas meringue snowmen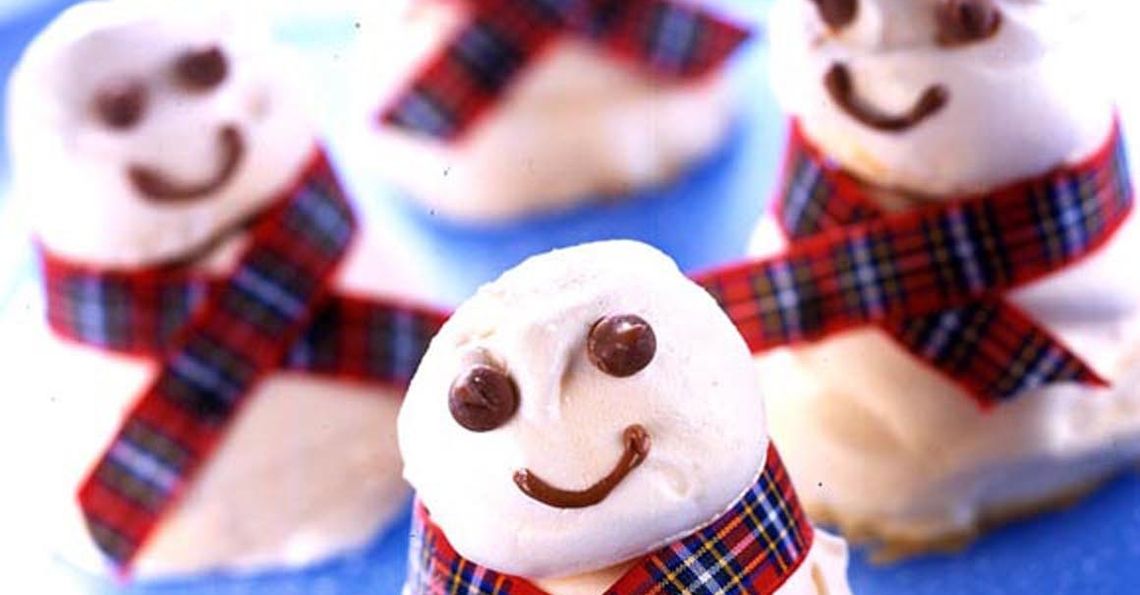 Serves: 5
Prep: 20 mins
Cook: 60 mins
Christmas meringue snowmen recipe (163 calories per portion)
Ingredients
2 large British Lion egg whites
100g/4oz caster sugar
75g/3oz milk chocolate drops
5 (10cm/4in) lengths of tartan ribbon
Method
Preheat the oven to 140C/Fan 120C/275F/Gas Mark 1. Grease a large baking sheet and line with non-stick baking parchment. Place the egg whites in a large, clean bowl and use an electric whisk to whisk them until they are thick, white and stiff peaks form.
Add about a third of the sugar and whisk again until the egg whites are stiff and shiny. Add the sugar in two more batches whisking in between. When all the sugar has been whisked in, the egg whites will be really stiff, white and shiny.
Use a dessertspoon to place 5 round heaps of meringue, (about 6cm/2 3/8 in diameter) well apart on the baking sheets - these will be the bodies. Then use a teaspoon to place 5 smaller round heaps, (about 4cm/1 ½ in diameter) of meringue on the baking sheet to make the heads. Bake for about 1 hour or until the base of the meringues feel dry and crisp. Cool.
To decorate: save 10 chocolate drops for eyes. Place the remainder in a small heatproof bowl and stand it over a small pan of hot water, stir until the chocolate has melted.
Use a small paint brush to paint a blob of chocolate on top of a body and place a head on top. Next wrap the ribbon around the neck of the snowman, gluing the ends onto the snowman with chocolate. Finally flue two eyes onto each snowman with melted chocolate and use the paint brush to paint a chocolate smile onto each face. Dust with icing sugar.
Click on the stars to rate this recipe: