Crustless quiche with broccoli and peppers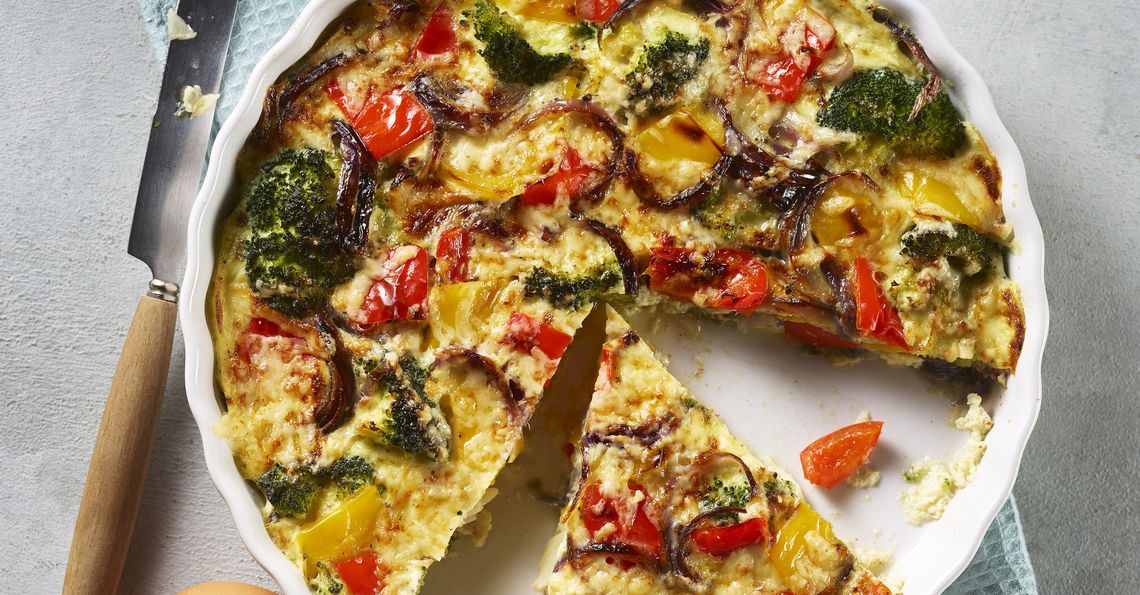 Serves: 6
Prep: 15 mins
Cook: 20 mins
Crustless quiche with broccoli and peppers, cooked in a microwave! This tasty dish is the perfect way to enjoy a meal without spending too much time in the kitchen. The combination of broccoli, peppers and eggs make it a flavoursome option - perfect for breakfast, lunch or dinner. Plus, it only takes minutes to prepare.
Ingredients
1 Tbsp olive oil
1 red onion, sliced
2 small peppers, any colour, deseeded
120g broccoli florets
3 medium British Lion eggs
salt and ground black pepper
100ml whole milk
75g mature English cheddar, grated
salad to serve
Method
Prepare a heat-proof microwaveable ceramic dish measuring 23cm wide 4cm deep.
Add the onion and oil and cook on HIGH for 2 minutes.
Meanwhile chop the peppers into chunky pieces about 2cm in size. Stir the peppers and broccoli florets into the onions, cover the dish with a suitable upturned plate and cook on high for 4 minutes until the vegetables are soft. Season well.
Beat the eggs and milk with plenty of black pepper and a little salt. Stir half the cheese into the vegetables, then pour over the egg mix. Cover with the plate and cook on high for 4 minutes. Leave to stand for 2 minutes to finish cooking.
Sprinkle the remaining cheese on top and pop the quiche under a hot grill and cook for a couple of minutes or until golden brown on top.
Leave to cool for 10 minutes before loosening the edges and serving in wedges with salad.
Click on the stars to rate this recipe: