Greek style spinach, feta and egg tarts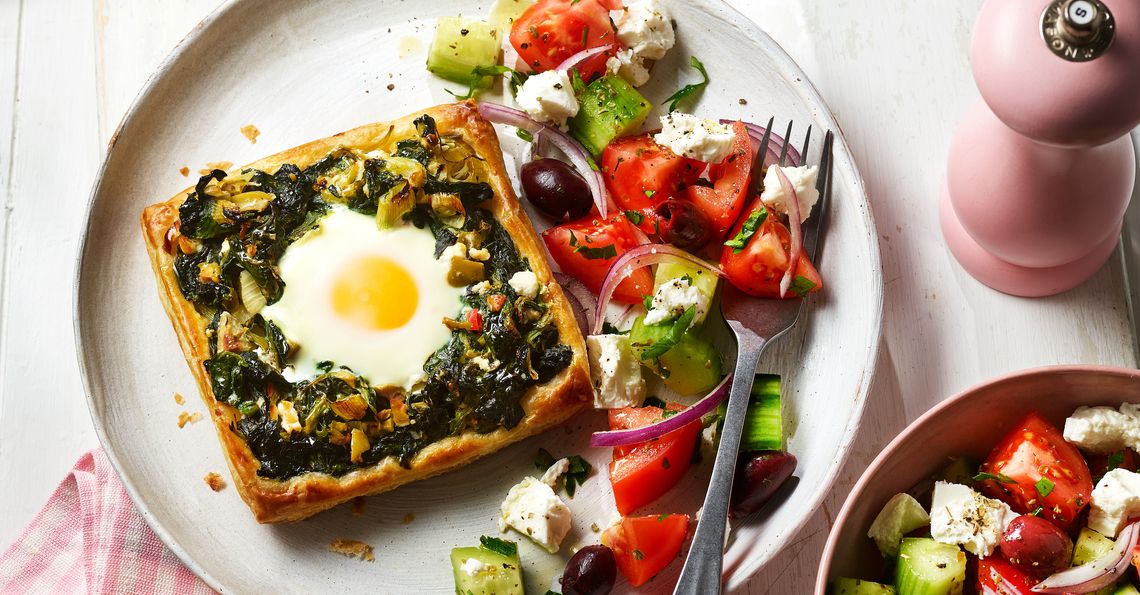 Ingredients
500g frozen whole baby leaf spinach
2 tbsp olive oil
1 bunch spring onions, trimmed and sliced
1 clove garlic
Salt and ground black pepper
Grated nutmeg to taste
50g pitted green olives, chopped
100g feta cheese, crumbled
1 (320g) sheet of puff pastry
7 medium British Lion quality eggs
Method
Heat a large frying pan, add the spinach and cook from frozen, stirring occasionally until the spinach has thawed. Spoon into a sieve and press out any excess moisture.
Next, add the oil the the pan add the spring onions and garlic and fry together for a minute until soft. Remove from the heat and stir in the spinach, olives and feta. Mix well then season to taste with nutmeg, salt and pepper.
Preheat the oven to 220oC/Fan 200oC/Gas 7. Unroll the pastry and cut the rectangle into 6 evenly sized pieces and place on a large baking paper lined baking tray. Beat one of the eggs in a small bowl, then brush 2cm of the edges of the pastry with egg. Prick the centre of the pastry with a fork.
Stir the rest of the beaten egg into the spinach mixture, then divide between the pastry. Use a fork and spoon to spread it up to the egg washed border, then make a hollow in the centre of the spinach mix. Carefully crack an egg into the middle of each. 
Bake in the centre of the oven for 15-20 minutes or until the pastry is golden and eggs set. Serve warm with a tomato, mint and cucumber salad.
Click on the stars to rate this recipe: