Breakfast focaccia baked with eggs, herbs, cherry tomatoes and parmesan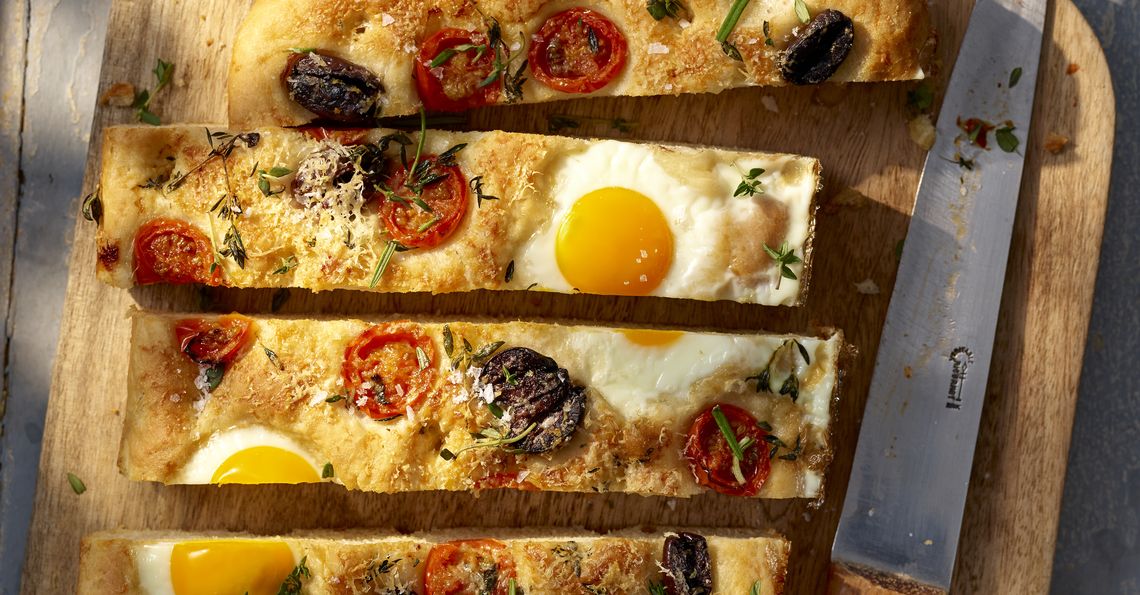 Serves: 10
Prep: 45 mins
Cook: 10 mins
Ingredients
400g bread flour
1 sachet of activated dried yeast
1 tsp salt
1 tsp caster sugar
250ml lukewarm water
3-5 large British Lion eggs
150g cherry tomatoes, halved
60g pitted olives, halved
5 springs of thyme
30g parmesan, grated
Salt
Olive oil
Method
In a large bowl mix together flour, yeast, salt and sugar. Make a well in the middle of your flour mix and pour half of the water into it. Use your hands to knead until all the ingredients are combined. Add the rest of the water and knead for about 5 minutes or till the dough is smooth and springy. 
Cover the bowl with a damp kitchen cloth and leave in a warm place for about 30min, until the dough doubles in size. 
Transfer the dough onto a deep roasting tray (32 cm x 20 cm or smaller) generously covered with olive oil. Stretch it to the sides and push it down with your fingers making small dwells. 
Drizzle the dough with olive oil. Make 3-5 egg size balls with tin foil and press them onto the dough leaving space in between for the rest of the toppings. 
Use tomatoes, olives and thyme to fill the gaps in between the foil balls. Press all the toppings down into the dough. Sprinkle the parmesan over and leave for another 20min.
Preheat the oven to 220 C/200 C fan. Bake the focaccia for 15 minutes, until golden brown. Crack the eggs and transfer each onto a small ramekin. Take the focaccia out of the oven and remove the tin foil holders from the dough. Transfer the eggs into the holes and put the tray back into the oven for another 5 minutes or until the egg whites are set.
Serve with more olive oil and sprinkling of sea salt flakes.
Nutritional information, per serving:

| Calories | Carbs | Protein | Fat | Saturates | Salt |
| --- | --- | --- | --- | --- | --- |
| 207 | 31.1g | 9.2g | 6.0g | 1.7g | 1.1g |
Click on the stars to rate this recipe: