Green Shakshuka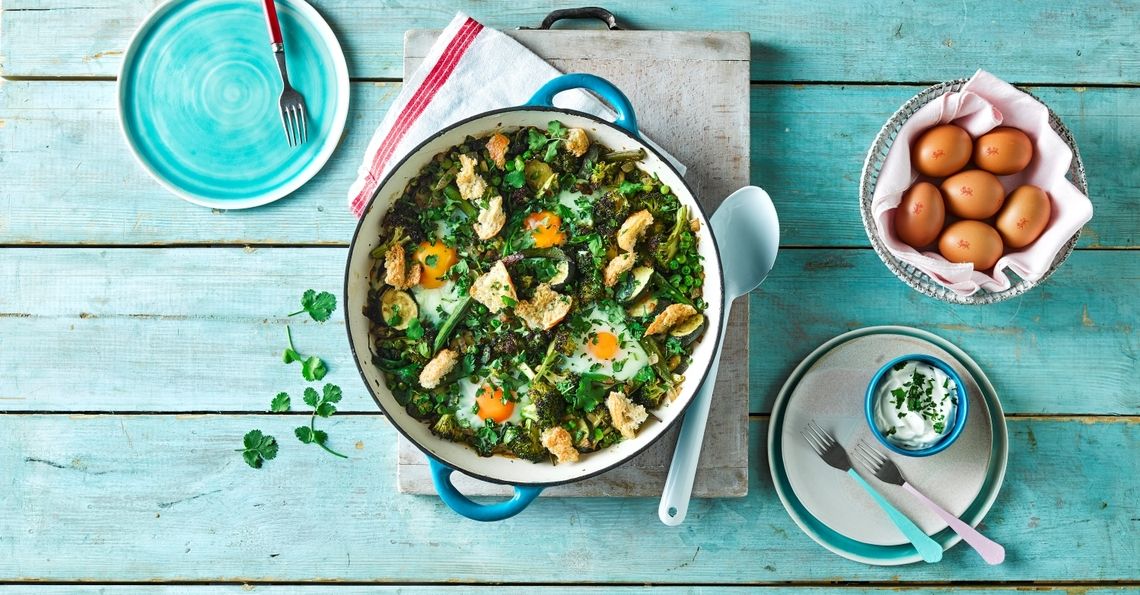 Serves: 4
Prep: 30 mins
Cook: 25 mins
If you're looking for a healthy yet indulgent feeling brunch recipe for Easter morning, stop the search. This shakshuka with a green twist is ideal
Ingredients
1 tbsp olive oil
2 onions, finely chopped
3 courgettes, thinly sliced
2 garlic cloves, crushed
1 tsp cumin seeds
2 tsp ground coriander
15g ginger, peeled and finely grated
1 broccoli head, cut into small florets
200g sugar snap peas
150g spinach
200g frozen peas, defrosted
small bunch parsley, roughly chopped
small bunch coriander, roughly chopped
150ml vegetable stock
150g sourdough bread, roughly torn
4 British Lion eggs
Greek yogurt, to serve
Method
1.  Heat the oven to 200C/180C fan/gas 6. In a large casserole dish, heat the olive oil, then add the onions and courgettes. Fry for 5 mins until they start to soften. Add the garlic, cumin seeds, ground coriander and ginger, then fry for 2-3 mins until fragrant.
2.  Add the broccoli and sugar snap peas, stir frying for 3-4 mins, then stir in the peas and spinach (you may need to add it in batches), stirring regularly until the spinach has wilted. Season with salt and freshly ground black pepper, then pour two thirds of the veg into a bowl and set aside.
3.  Put the remaining veg in a blender with half of the chopped parsley and coriander, plus the stock. Blitz to a thick soup consistency, then pour back into the casserole dish. Spoon the reserved vegetables on top, then scatter over the sourdough.
4.  Using a spoon, create holes in the veg for the eggs, and crack an egg directly into each hole. Bake for 20-25 mins until the eggs have set. Scatter over the remaining herbs and add a dollop of Greek yogurt to serve
Click on the stars to rate this recipe: