Puff pastry baked egg and pesto parcels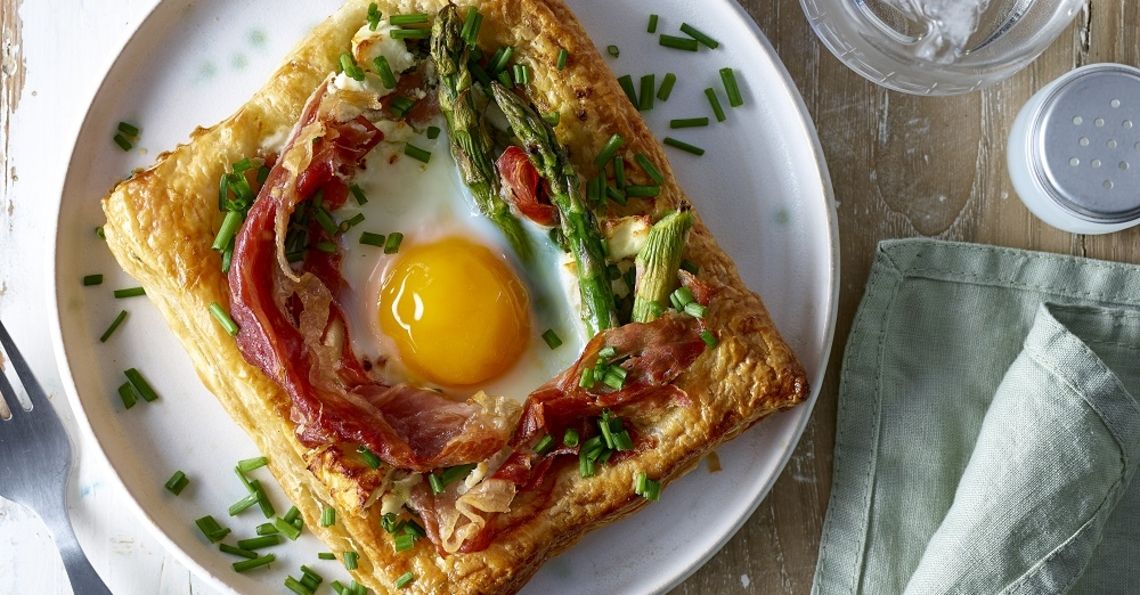 Serves: 1
Prep: 10 mins
Cook: 20 mins
Easy and elegant breakfast option. When you want to impress.
 
Ingredients
1 medium British Lion egg yolk
1 medium British Lion egg
Rolled puff pastry, roughly 15 x 25cm rectangle
1 tbsp pesto
2 asparagus spears, trimmed and cut in half
30g feta
2 slices prosciutto
Method
Preheat the oven to 200*C. Cut the pastry in half, into two almost square shapes. Make a frame out of one of the squares, cutting out a small square in the middle of it and removing it gently. Place 'the frame' on top of the full square and press with your fingers. 
Spread the pesto over the centre of the pastry (leaving the pastry frame not covered), place the asparagus on one side, prosciutto on the other and crumble the feta over the top and bottom from the centre. Leave the space in the middle empty – that will be where you place your British Lion egg. Brush the pastry frame with the egg yolk. 
Put the pastry on a lined baking tray and bake in the oven for 10-15min, until puffed and the edges start to brown. Take it out of the oven and crack the British Lion egg into the centre. Put the tray back in the oven and cook for another 5 minutes, until the egg white is set.
Serve straight from the oven with a side of green salad or sprinkling of seeds.
Cooks tips
You can easily replace the pesto with tomato sauce; feta with other type of cheese, prosciutto with bacon, asparagus with broccoli. This recipe is very forgiving, when it comes to ingredients.
Nutritional information, per serving:

| Calories | Carbs | Protein | Fat | Saturates | Salt |
| --- | --- | --- | --- | --- | --- |
| 726 | 31.8g | 33.0g | 53.6g | 16.4g | 5.7g |
Click on the stars to rate this recipe: