Sunny egg, tomato and pepper pizzas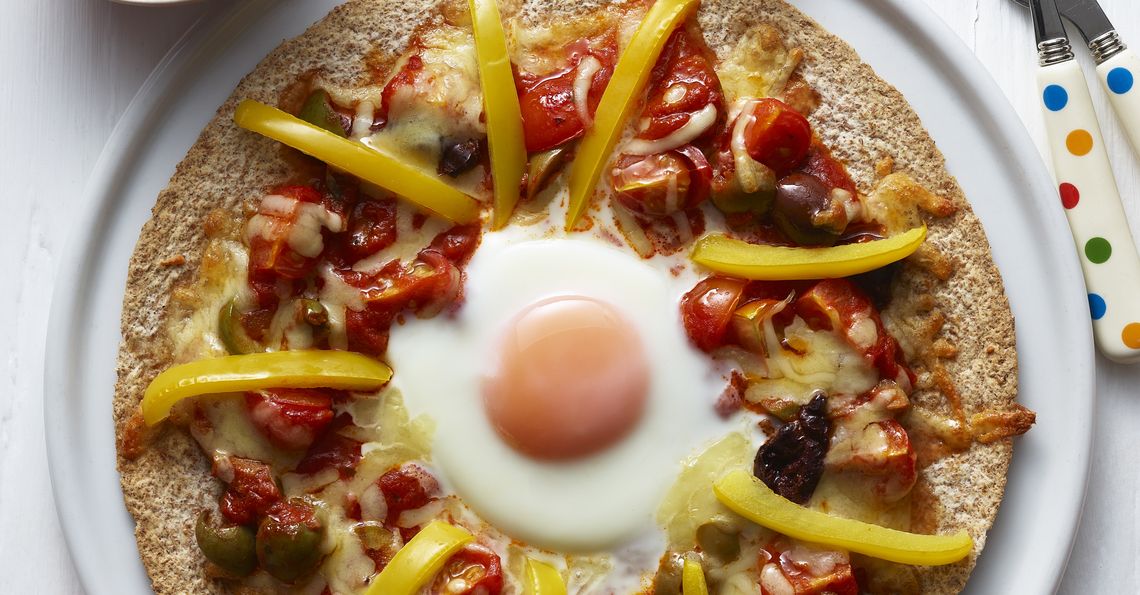 Serves: 2
Prep: 5 mins
Cook: 8 mins
A fun and creative way to pack in the veg! Let eggs take centre stage in these Tomato and pepper pizzas and what's more they take less than 10 mins to cook.
Ingredients
6 tbsp tomato pasta sauce
8 pitted green or black olives
6 cherry tomatoes
2 wholemeal tortilla wraps
50g grated Cheddar and mozzarella cheese
1 yellow pepper, deseeded and cut into sticks
Method
Preheat the oven to 220C/ Fan 200C / Gas Mark 6. Lightly oil a large baking tray big enough to hold two tortilla wraps.
 Put the pasta sauce in a bowl. Roughly chop the olives, cut the tomatoes into quarters then stir both into the pasta sauce.
Spoon half the pasta sauce mixture over the two tortillas, then use a spoon to spread it to the edges leaving a 3cm clear border. Use a spoon to make a hollow in the centre of the sauce and crack in an egg.
Scatter half the cheese around the egg, covering the sauce, then lay pepper sticks around the egg. Bake in the oven for 6-8minutes or until the egg has set. Leave to cool slightly before transferring to plates to eat. 
Click on the stars to rate this recipe: