Salmon with poached egg and spinach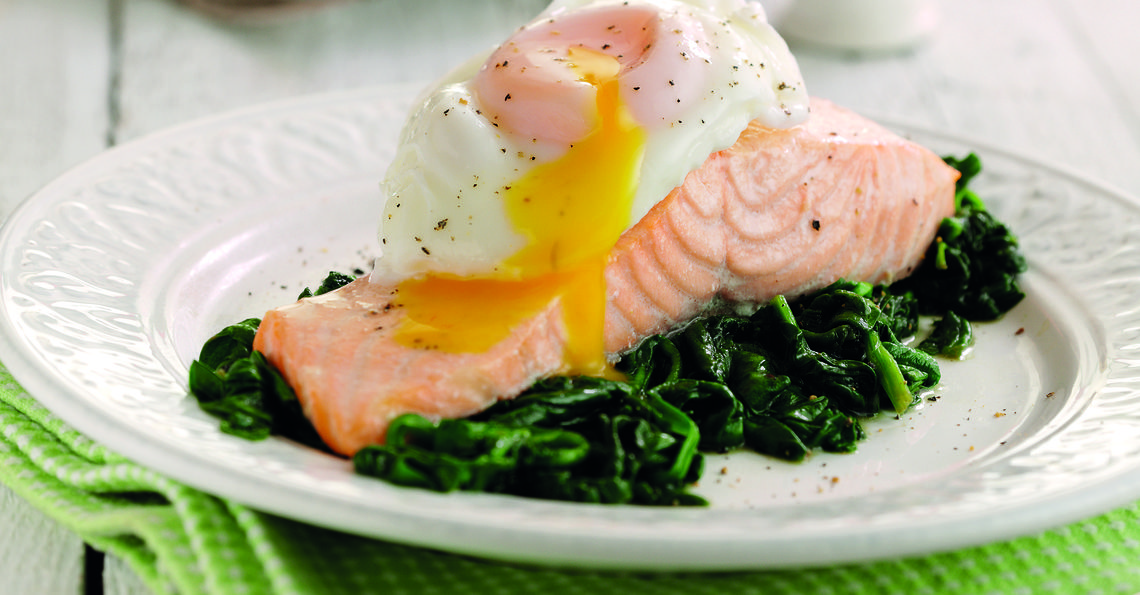 Serves: 2
Prep: 5 mins
Cook: 10 mins
This quick and easy salmon and poached egg recipe is packed with protein and great natural nutrition - the taste combination of the delicious salmon topped with rich egg and served on a bed of spinach leaves is simple, succulent and satisfying. With only four ingredients, this versatile dish is ideal for the mid-week meal, or a super-healthy lunch or dinner recipe for health enthusiasts.
Do you struggle to make the perfect poached egg every time? Check out our poached egg guide, for helpful hints and tips on how to poach an egg. And for more easy egg recipes in less than twenty minutes, check out our quick and easy recipes section.
Ingredients
2 (100g) salmon steaks, skinned
1 (300g) bag young spinach leaves
A dash of vinegar
2 large British Lion eggs
Method
1. Arrange the salmon steaks in a micro-proof dish, cover with micro-proof film and pierce. Cook on 650 watts for 3 1/2- 4 minutes, turning once until just cooked through and leave to stand.
 
2. Pierce the bag of spinach and cook on high for 2-3mins or until the leaves are wilted and tender. Drain in a sieve before setting aside.
 
3. Meanwhile, fill a large pan with water to a depth of 5cm/2in. Add the vinegar and a dash of salt and bring to the boil.
 
4. Carefully crack in the eggs and when the water is simmering, cook for 2-3 mins depending on how soft you like your eggs. Use a slotted spoon to lift the eggs from the water and drain on kitchen paper.
 
5. Divide the spinach between two serving plates, top with the salmon steaks. Place a poached egg on top of each salmon steak. Serve immediately.
Nutritional information, per serving:

| Calories | Carbs | Protein | Fat | Saturates | Salt |
| --- | --- | --- | --- | --- | --- |
| 310 | 2.4g | 10.1g | 16.5g | 3.7g | 0.8g |
Click on the stars to rate this recipe: