Baked polenta with eggs & pesto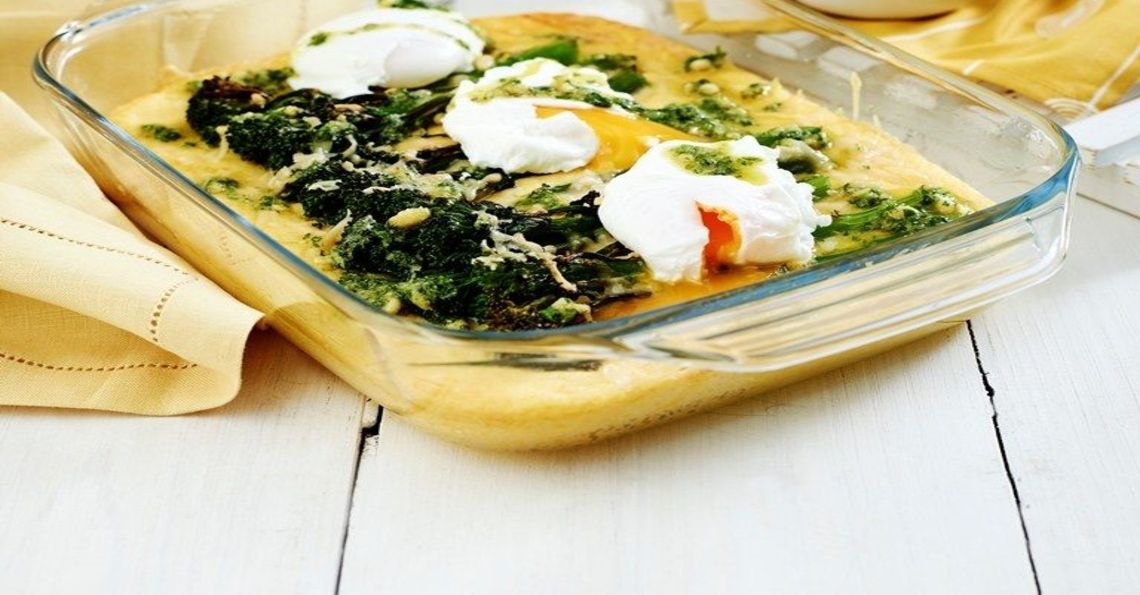 Serves: 4
Prep: 10 mins
Cook: 20 mins
Ingredients
250g quick cook polenta
500ml milk
500ml vegetable stock
30g unsalted butter
40g Parmesan, grated
1 tbsp olive oil
A handful of tenderstem broccoli, blanched in boiling water
4 large British Lion eggs
A dash of white wine vinegar
30g pesto
Salt and pepper
Method
Preheat the oven to 180C / 160C fan / Gas Mark 4.
Bring the milk and stock to the boil in a large pan. Add the polenta, whisking until it starts to bubble. Bubble for 2 minutes, stirring all the time.
Remove from the heat and stir in the butter then season well with salt and pepper.
Grease an ovenproof disk with a little oil then pour in the cooked polenta.
Scatter the broccoli on top of the polenta, drizzle with a little olive oil and sprinkle with Parmesan. Place in the oven to bake for 10 minutes.
Whilst the polenta is cooking bring a pan of water to the boil. Add a dash of white wine vinegar and season with salt.
Crack two eggs into ramekins. Use a whisk to create a whirlpool in the water and turn it down to a simmer. Pour the eggs, one at a time, into the middle of the whirlpool and leave to cook for 3-4 minutes or until the white is set and the yolk is still runny. Remove the eggs from the water then place in a bowl of ice-cold water. Repeat the process with the other two eggs.
When all the eggs are cooked and polenta is ready, top the polenta with eggs, drizzle with pesto and serve.
Cookware courtesy of www.pyrexuk.com
Nutritional information, per serving:

| Calories | Carbs | Protein | Fat | Saturates | Salt |
| --- | --- | --- | --- | --- | --- |
| 480 | 16.8g | 20.6g | 23.8g | 10.3g | 2.0g |
Click on the stars to rate this recipe: