Spinach and egg burgers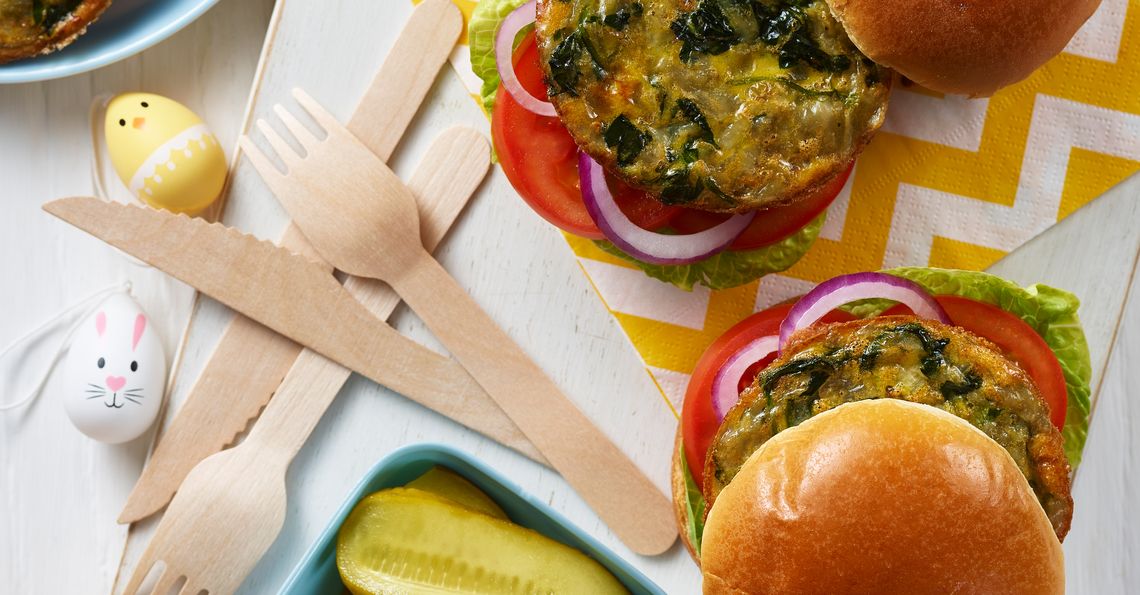 Serves: 4
Prep: 10 mins
Cook: 20 mins
Eggs are a great alternative source of protein to meat, so swap your regular burger for these spinach and egg burgers.
Ingredients
250g potatoes, peeled
4 spring onions, finely sliced
1 clove garlic, crushed
1 (80g) bag spinach
4 large British Lion eggs
Salt and ground black pepper
Pinch of dried chilli flakes (optional)
4 brioche burger buns
To finish, your choice of:
o tomato chutney or relish o little gem lettuce, o sliced tomatoes and red onion o sliced gherkins
Method
Preheat the oven to 200C/Fan 180C / Gas Mark 6. Carefully butter the inside of a 4-hole Yorkshire pudding tin and stand it on a metal baking sheet.
Coarsely grate the potatoes. Heat a non-stick frying pan then add the oil, followed by the potatoes. Cook over a medium heat for about 5 minutes until the potatoes are tender. 
Roughly chop the spinach on a board, then stir into the potatoes with the spring onions and garlic. Increase the heat and continue to cook until the leaves are wilted and most of the liquid has evaporated.
Remove from the heat and season well with salt and pepper and chilli. Crack the eggs into a large jug, then beat together using a wire whisk or fork, add the potato mixture and stir well.
Divide the mixture between the four holes in the tin and bake for 15-20 minutes until the burgers are golden. 
Remove from the oven, loosen the edges with a palette knife and leave to cool slightly.
Toast the inside of the buns then fill with the spinach and egg burger along with your favourite burger ingredients. 
Click on the stars to rate this recipe: