Lamb biryani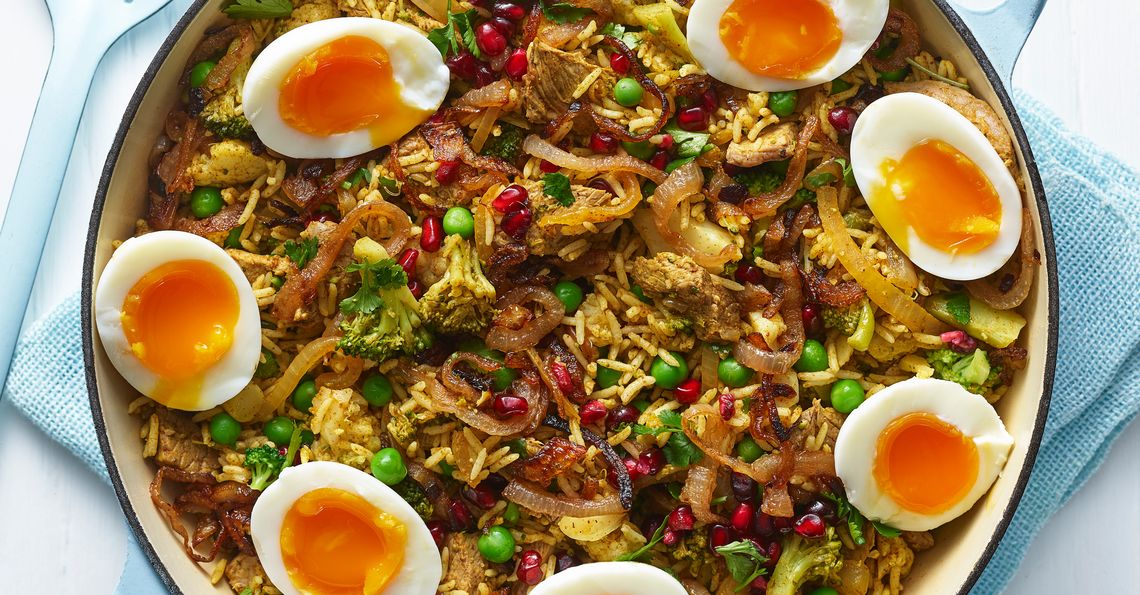 Serves: 4
Prep: 8 mins
Cook: 15 mins
Our lamb biryani is an all-round great recipe and is ideal for using up any Sunday Roast leftovers to minimise food waste.
Ingredients
2 tbsp vegetable oil
2 onions, sliced
Salt and ground black pepper
5 medium British Lion eggs
2cm piece root ginger, grated
1 clove garlic, crushed
175g-225g cold roast lamb, beef, chicken or turkey
225g cooked vegetables we used cauliflower, broccoli and peas
3 tbsp medium curry paste
1 (200g) sachet of cooked basmati rice
3 tbsp chopped fresh coriander
50g pomegranate seeds
Method
Heat the oil in a large frying pan or wok. Add the onions and a pinch of salt, then cook over a medium heat for 6-8 minutes, stirring occasionally until the onions are golden brown. 
Remove half the onions and set aside. Cook the remainder over a low heat until they are golden and crispy. Drain on kitchen paper.
 Whilst you cook the onions, place the eggs in a small pan, cover with cold water and bring to the boil and cook for 5 mins. Drain the eggs, rinse in cold water, tapping the shells all over. When cool enough to handle, peel away the shells and set aside.
Return the soft onions to the pan with the ginger, garlic and curry paste and cook over a medium heat, stirring for a few seconds. Add the roasted meat, vegetables and rice with 4 tbsp water. 
Continue to cook, stirring frequently to mix everything together until all the ingredients are piping hot. Stir in half the coriander and season to taste. 
Transfer to a serving platter topped with the crispy fried onions, remaining coriander and pomegranate seeds. Cut the eggs in half and place on top. They should still be slightly soft inside. 
Cooks tips
Cooks tip: Use up your Sunday roast leftovers in this quick supper dish. You could use roasted lamb, beef, chicken or turkey, which ever you have left over. Break it into bite sized pieces.
Click on the stars to rate this recipe: