No bread burritos – healthy one-pot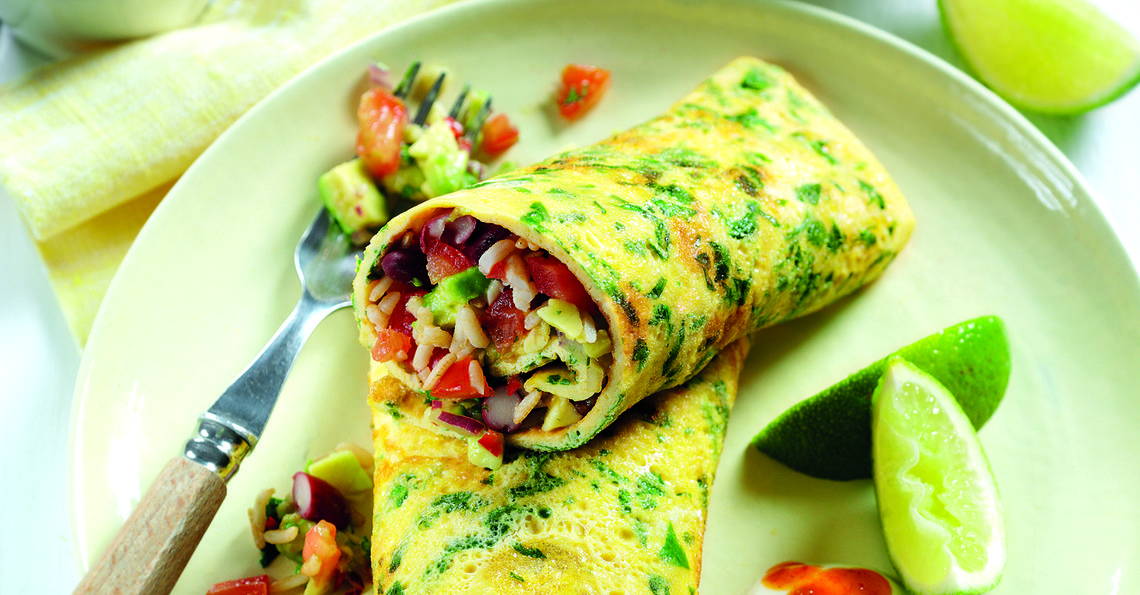 Serves: 4
Prep: 5 mins
Cook: 12 mins
Ingredients
¼ red onion, finely chopped
1 beef tomato, finely chopped
1 chilli, finely chopped
2 ripe avocados, finely chopped
Juice of 1 lime
1 tin of chopped tomatoes
6 pickled jalapeno slices, chopped
250g cooked brown rice
6 large British Lion eggs
2 tbsp parsley, chopped
1 tin kidney beans, washed and drained
Coriander, sour cream and a wedge of lime to serve (optional)
Method
For the filling
Place the onion, chilli, and tomato in a bowl. Season and mix well.
Add the avocados to the bowl, squeeze over the lime and mix well.
In a separate bowl mix the rice, beans and chopped tomatoes with the jalapeno slices.
For the burritos
Beat the eggs and parsley together and season.
Heat some oil in a frying pan and add about one quarter of the mix to the pan. Cook the mixture flat, like a tortilla, for 2-3 minutes (it should cook through, if not flip and cook for two more minutes).
Remove the egg 'tortilla' from the pan and store on a plate. Repeat to make three more.
Lay out the 'tortillas' and top with the rice mixture and guacamole.
Roll up and serve with chopped coriander, sour cream, and lime wedges.
Nutritional information, per serving:

| Calories | Carbs | Protein | Fat | Saturates | Salt |
| --- | --- | --- | --- | --- | --- |
| 456 | 42.5g | 21.3g | 23.7g | 5.5g | 1.1g |
Click on the stars to rate this recipe: