Rhiannon Lambert's tomato, courgette and pepper shakshuka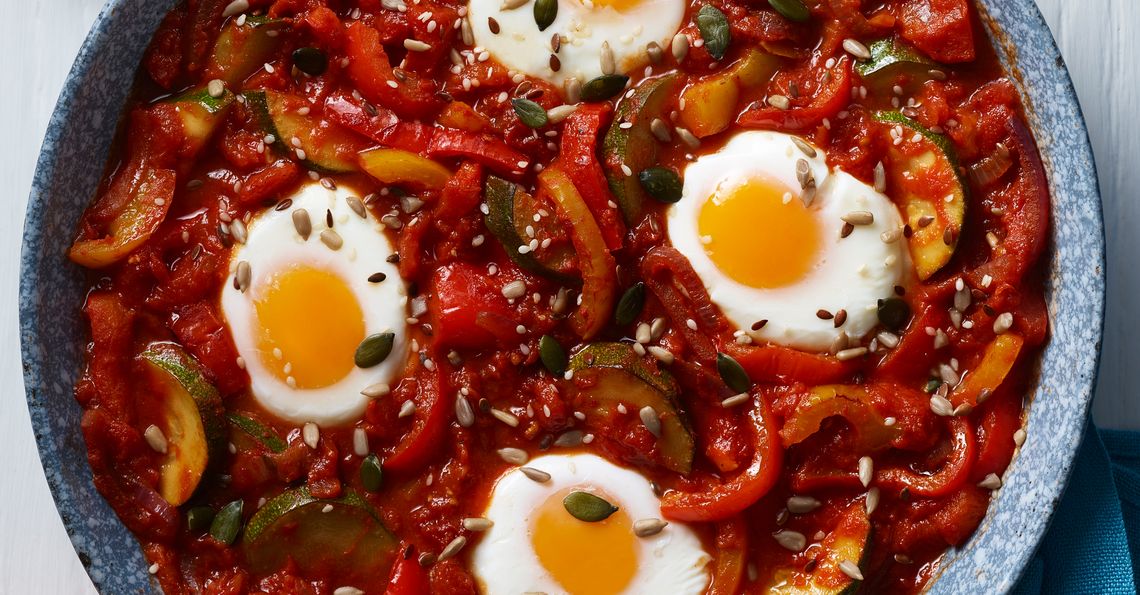 Serves: 4
Prep: 10 mins
Cook: 15 mins
Registered Nutritionist, Rhiannon Lambert, has created a Tomato, courgette, and pepper shakshuka which is perfect for sharing and means minimal washing up. This recipe delivers on nutrition and taste.
Ingredients
1 tbsp olive oil
1 red onion, sliced
1 red pepper, cored, deseeded and sliced
1 yellow pepper cored, deseeded and sliced
1 clove garlic, crushed
1 tsp ground cumin
1/2 tsp dried chili flakes
1 (400g) can chopped tomatoes
1 medium courgette, halved lengthways and sliced
4 large British Lion eggs
Handful of mixed seeds
Method
Heat oil in a medium frying pan, add the onion and peppers and cook over a medium to high heat for 5 minutes until soft and golden.
Stir in the garlic and cumin and cook for a minute. Stir in the courgettes, then add the tomatoes and bring to the boil.
Season to taste, reduce the heat to medium and simmer for 5 minutes until the courgettes are just tender.
Make four holes in the mixture with a wooden spoon and crack in the eggs, then cook until the whites start to turn solid white. 
Cover with a pan lid and cook over a low heat for 4-5 minutes or until the eggs are cooked to your liking.
Scatter with seeds and serve spooned onto plates.
Click on the stars to rate this recipe: