Eggy bread and vegetable cobbler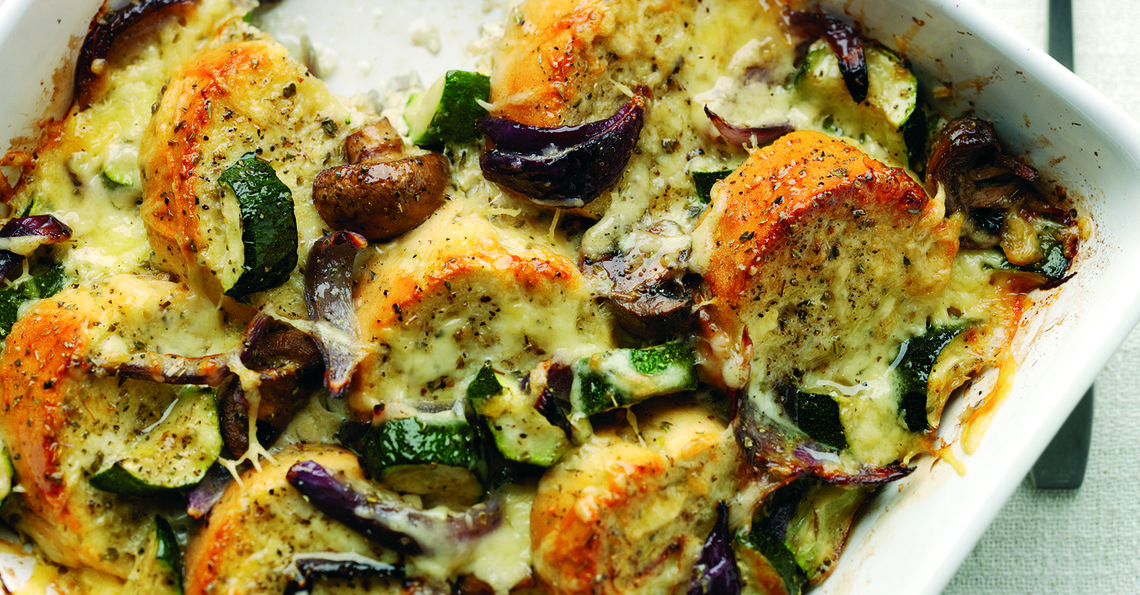 Serves: 4
Prep: 20 mins
Cook: 35 mins
Eggy bread and vegetable cobbler - an inventive dinner choice that the family will love.
Ingredients
1 red onion, cut into wedges
225g/8oz mushrooms, halved
2 medium courgettes, sliced
30ml/2tbsp olive oil
1 clove garlic crushed
8-10 slices baguette or French bread
6 large British Lion eggs
3 tbsp/45ml milk
5ml/1tsp dried herbs such as oregano or rosemary or mixed
50g/2oz cheddar cheese, grated
salt and freshly ground black pepper
Method
Preheat the oven to 220C/Fan 200C/Gas Mark 6. Place the onions, mushrooms and courgettes and oil in an ovenproof ceramic dish and toss together. Bake for 20 mins or until golden and tender. Remove from the oven and stir in the garlic.
In a shallow dish, beat the eggs with the milk, herbs and seasoning together. Dip the sliced bread in the egg, soak for a minute or two, then turn over and soak again. Transfer the soaked bread to the ovenproof dish and pour over any remaining egg.
Sprinkle over the cheese and bake for a further 15- 20 mins or until golden brown and crisp. Serve hot or warm.
Click on the stars to rate this recipe: