The Chiappas' halloumi, bean and egg hot pot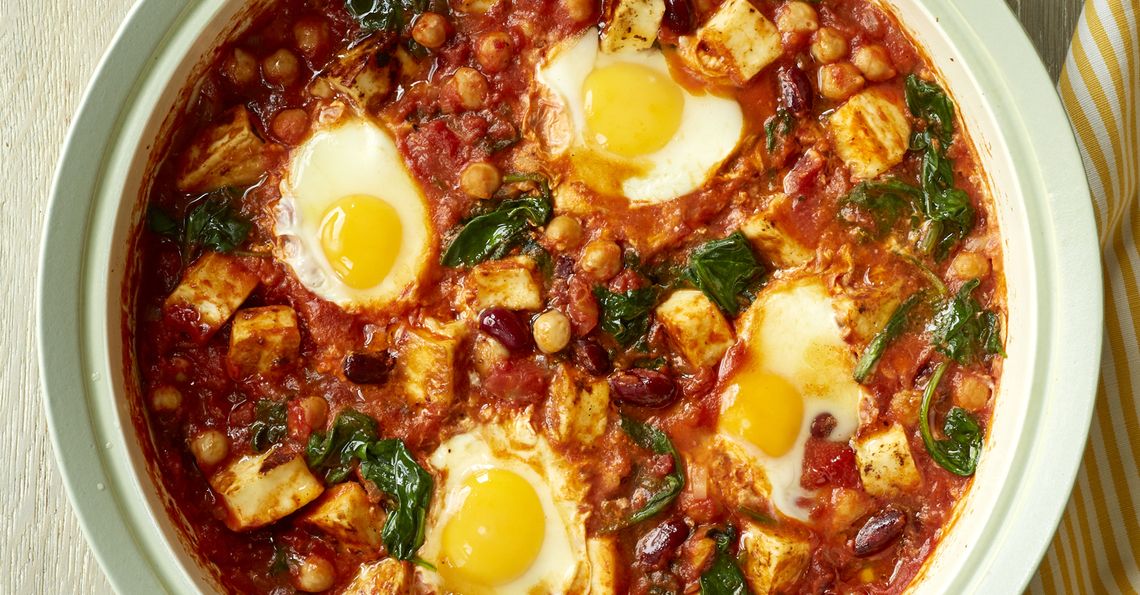 Serves: 4
Prep: 10 mins
Cook: 35 mins
Ingredients
4 large British Lion eggs
225g halloumi cheese, cut into 1cm cubes
1 tin of red kidney beans
1 tin of chickpeas
2 tins of chopped tomatoes
2 handfuls of baby spinach
1 medium onion, finely diced
1 clove of garlic, crushed
½ tsp salt
½ tsp sugar
1 tbsp. olive oil
Method
1. Heat the olive oil in a large deep oven-proof frying pan or wide based oven-proof saucepan.
2. Cook the onions on a medium heat until soft.
3. Add the garlic and cook for approximately two minutes whilst stirring.
4. Add the spinach then turn up the heat and immediately add the tinned tomatoes.
5. Bring to the boil and then reduce the sauce to a simmer whilst adding the salt and sugar.
6. Add the chickpeas and kidney beans whilst simmering.
7. Toast the halloumi cheese in a separate dry non-stick pan (no need to add any oil but keep turning the cheese until all the moisture has evaporated and it's nicely toasted on each side), then add to the bean mix.
8. Simmer for approximately 15-20 minutes until most of the liquid has reduced. Do not allow it to go too dry and thick – if so, add a splash of water.
9. Make a well in the bean mix and crack in an egg. Repeat with the remaining eggs. 
10. Cook for 2-3 minutes or if you want the eggs well done put the saucepan under the grill for an additional 1-2 minutes.
 
Nutritional information, per serving:

| Calories | Carbs | Protein | Fat | Saturates | Salt |
| --- | --- | --- | --- | --- | --- |
| 217 | 18.8g | 14.3g | 10.1g | 2.1g | 1.3g |
Click on the stars to rate this recipe: