Rolled omelette slice - lunchtime one-pot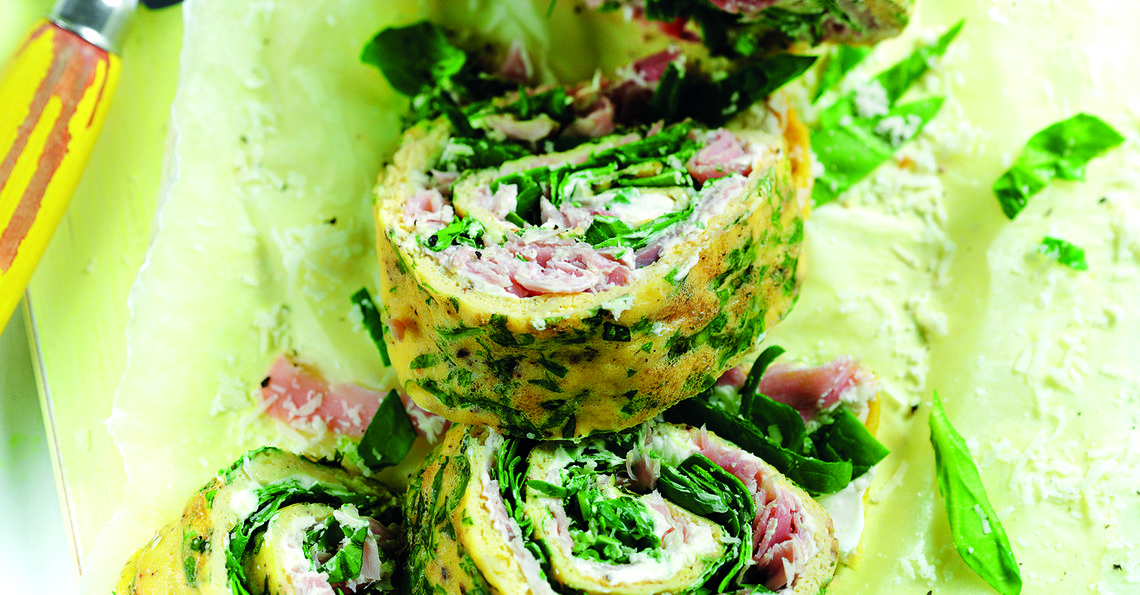 Serves: 4
Prep: 10 mins
Cook: 20 mins
Ingredients
6 large British Lion eggs
15g or a large handful of parsley, chopped
10g or a handful of basil, chopped
1 clove garlic, smashed
225g low fat cream cheese (beaten to soften)
120g smoked ham, shredded
70g spinach, shredded
50g Parmesan, finely grated
Method
Beat together the eggs, parsley, garlic and basil.
Lightly oil a 37 x 25 centimetre baking tray and line with baking parchment. Pour in the mixture and bake at 180C/350F/gas mark 4 for 15-20 minutes or until cooked through. Leave to cool.
Once the egg has cooled, layer on the cream cheese, ham, spinach, and Parmesan.
Starting from one of the short ends, roll up the egg, to enclose the filling. Using a sharp knife, cut it into six centimetre thick slices. Serve straight away or chill and serve later.
Nutritional information, per serving:

| Calories | Carbs | Protein | Fat | Saturates | Salt |
| --- | --- | --- | --- | --- | --- |
| 283 | 3.0g | 30.5g | 17.5g | 13.3g | 2.1g |
Click on the stars to rate this recipe: