MOB Kitchen's anchovy and caper carbonara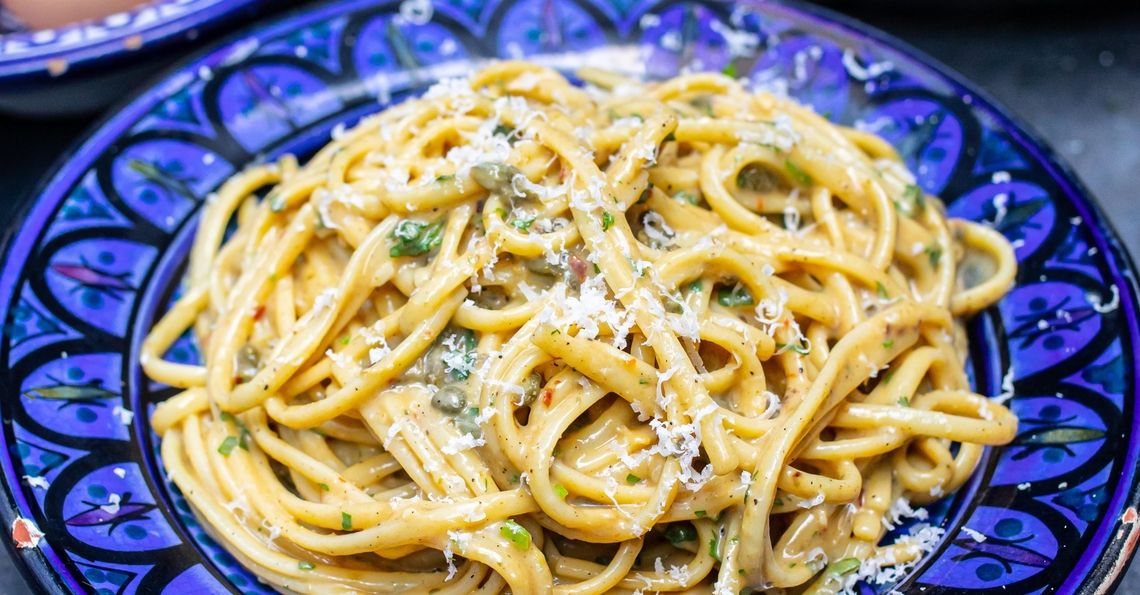 A new take on carbonara using British Lion eggs, a zesty lemon, parmesan and mixed with a base of anchovies, capers, chilli flakes and a scatter of parsley.
Ingredients
6 British Lion egg yolks
100g parmesan
The zest of 1 lemon
9 anchovies, chopped (save the oil in the tin)
1 tsp chilli flakes
Large handful of capers
2 cloves of garlic
Bunch of parsley
400g linguine
Salt
Pepper
Olive oil
Method
Take two bowls and separate your British Lion egg yolks from the egg whites. 
Season your yolks with salt, a generous amount of pepper (around 4 pinches), lemon zest and grated parmesan (saving some for the garnish). Whisk together and set aside.
Chop your anchovies finely and add them, along with the anchovy oil saved from the tin and chilli flakes, to a pan over a medium heat. Cook until the anchovies dissolve and you get a thick brown paste which holds the flavour.
Once you get this paste, slice the garlic and add into the pan with the capers and a glug of olive oil.
Bring some water to the boil in a saucepan, add a pinch of salt and your linguine.
Once the pasta has been cooking for 5 minutes, remove around 200ml of pasta water and add 5 tbsp of it into the anchovy pan, letting it bubble down.
Keep an eye on your linguine and once it is al dente, drain and add to the anchovy pan along with your eggy mix and a further 3 tbsp of pasta water. Mix this all together.
When the linguine is nice and silky, remove from the heat - if the sauce looks too thick add a bit more water.
Finely chop up the parsley and toss this though the linguine (saving some for garnish). Serve up with a scatter of parsley, a grating of parmesan and a twist of black pepper. Enjoy!
Cooks tips
*Make sure you reserve plenty of pasta water to get the perfect creamy carbonara consistency.
**Set egg whites aside and use for meringues or cocktails. 
Click on the stars to rate this recipe: