Fragrant Indonesian fried rice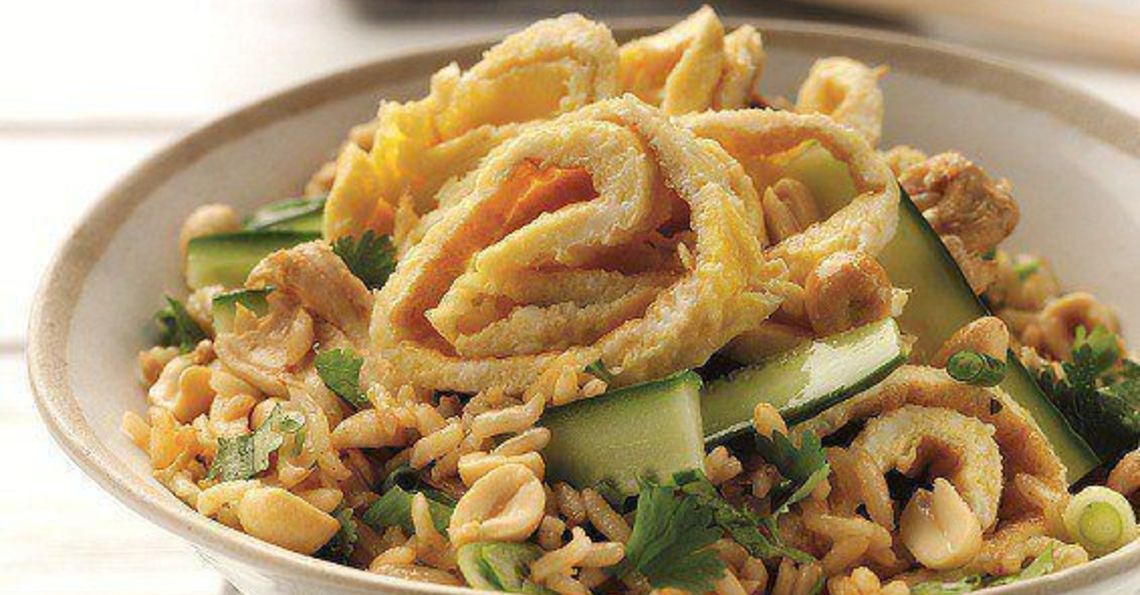 Serves: 4
Prep: 10 mins
Cook: 10 mins
Egg fried rice with chicken makes a super-speedy supper for four. 
Ingredients
400g brown basmati rice
4 large British Lion eggs, beaten
250g leftover roast chicken, shredded
1 onion, peeled and sliced
3 garlic cloves
1 red chilli
1 tbsp brown sugar
2 tbsp soy sauce
1 tbsp tomato puree
3 spring onions, finely sliced
2 tbsp fresh coriander, chopped
½ cucumber, deseeded and cut into thin batons
30g peanuts (optional)
Salt and pepper
Method
Cook the rice to the packet instructions. Drain and leave to cool.
Beat the eggs and season with salt and pepper. Heat some oil in a non-stick pan and add the eggs. Roll around the pan to coat thinly. Cook for 1-2 minutes then flip and cook for a further minute. Roll the omelette and slice.
Blend half of the onion along with the garlic, chilli, sugar, tomato puree and soy until smooth.
Add the oil to a hot pan and fry the other half of the onion until soft. Add the shredded chicken and the puree. Cook for a couple of minutes then add the rice and fry for 3-4 minutes until heated through. Add the spring onions and coriander.
Divide the hot rice between four bowls. Top with the cucumber, sliced omelette and a few peanuts if liked. 
Click on the stars to rate this recipe: