Fiery egg and spinach curry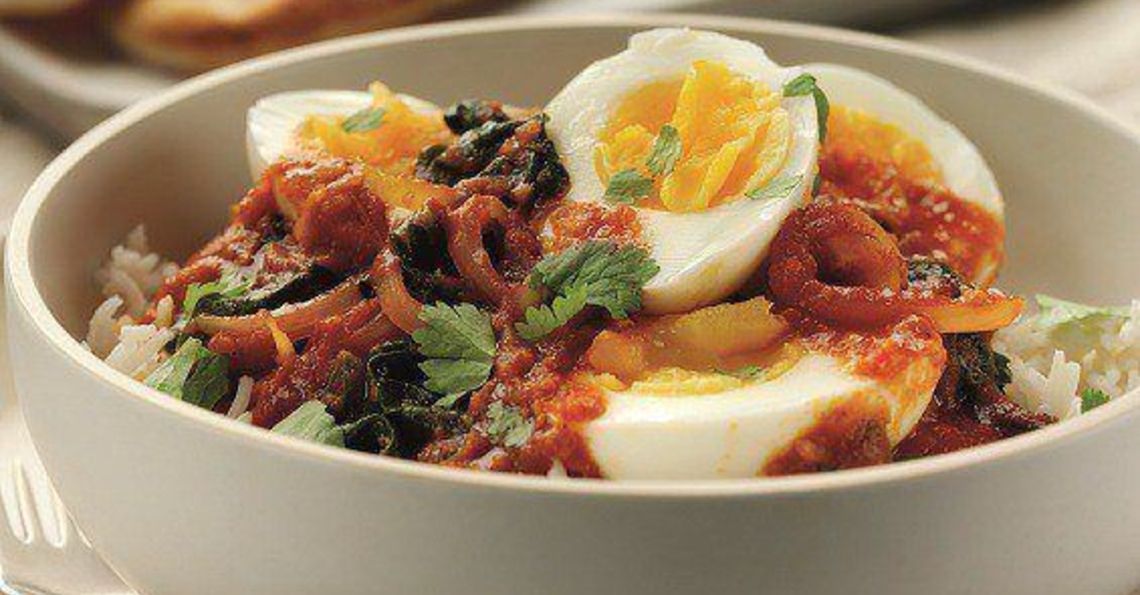 Serves: 4
Prep: 10 mins
Cook: 15 mins
Egg curries are so easy to make and this one will be on the table in less than half an hour.
Ingredients
8 large British Lion eggs
1 large onion, sliced
1 carton (500ml) tomato passata
3 fresh tomatoes, quartered
200ml chicken or vegetable stock
150g baby spinach
Fresh coriander to garnish
Salt and pepper
Basmati rice and naan to serve (optional)
For the curry paste:
1 onion, roughly peeled and chopped
5 cloves garlic, peeled
1 thumbsized piece fresh ginger, peeled
1 red chilli
1 tsp cinnammon
1 tbsp garam masala
1 tsp fennel seeds, crushed
1 tsp turmeric
2 tbsp vegetable oil
Method
Bring a large pan of water to a rolling boil and gently add the eggs. Cook at a simmer for 7 minutes then place the eggs into a bowl of iced water to stop the cooking process. When cool enough to handle, peel and set aside.
Place the curry paste ingredients in a blender along with a small dash of oil and blitz into a fine paste.
Fry the onions in some oil for 3-4 minutes. Add the curry paste and fry for a further 3 minutes. Add the passata, fresh tomato quarters and stock. Simmer for 10 minutes.
Just before serving, stir through the spinach until wilted. Season to taste and add in the halved eggs.
Divide between four bowls. Garnish with fresh coriander and serve with basmati rice and naan bread if liked.
Click on the stars to rate this recipe: