Gizzi Erskine's Keralan egg curry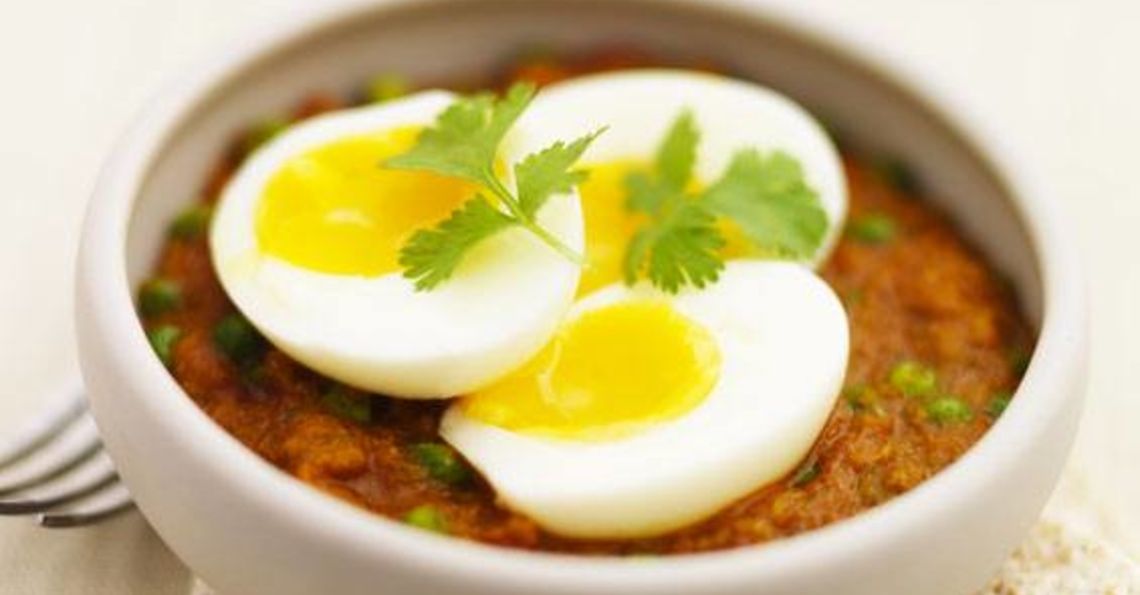 Serves: 2
Prep: 0 mins
Cook: 9 mins
Lovers of authentic Indian cuisine will know that curries can take some time to prepare – well, with Gizzi Erskine's Keralan egg curry you can enjoy an authentic dish that embodies classic flavours that takes less time than you think!
Gizzi says: The boiled eggs in this recipe need to be cooked for six minutes, to give them that firm white and slightly soft yolk. Serve them in halves on top of the curry or cut them into smaller pieces and mix into the dish."
Ingredients
4 large British Lion eggs, hard-boiled
2-3 tablespoons vegetable oil
1 onion, finely chopped
3-4 cloves garlic, finely chopped
3cm piece ginger, grated
1-2 green chillies, finely chopped
½ tablespoon tomato purée
¼ teaspoon sea salt
3/4 teaspoon turmeric powder
½ teaspoon ground cumin
½ teaspoon ground coriander
3/4 teaspoon garam masala
1 tomato, finely chopped
200ml coconut milk
100g petite pois
2 tablespoons coriander leaves, chopped
Chapattis or rice to serve
Method
Remove the shell from the boiled eggs (Gizzi uses free range), halve and put aside.
Blend the oil, onion, garlic, ginger, green chillies and other spices together into a paste. Add to a heated wok and fry for 3-4 minutes.
Add the tomato, coconut cream and peas and simmer for 5 minutes.
During the last 2 minutes of cooking add the halved boiled eggs and stir.
Serve the egg curry hot, garnish with coriander leaves, chapattis or rice.
Click on the stars to rate this recipe: