Eggs baked in a crusty baguette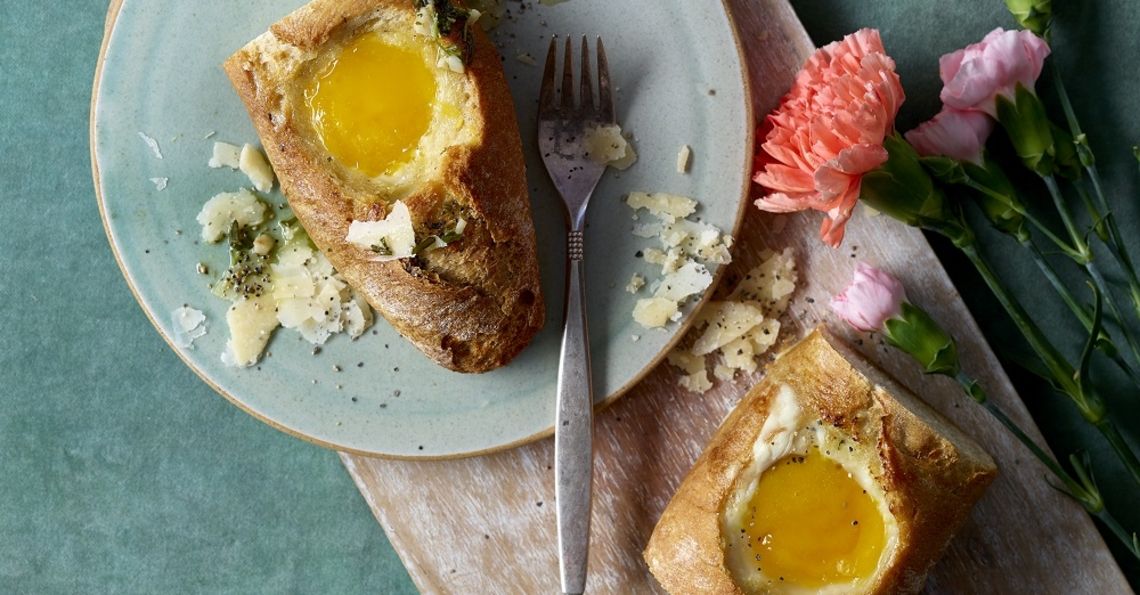 Serves: 4
Prep: 10 mins
Cook: 15 mins
An ultimate house-warming meal. It will fill your home with cosy smell of fresh bread, garlic and butter.
Ingredients
4 medium British Lion eggs
150g butter
1 spring rosemary, leaves picked
1 spring thyme, leaves picked
1 clove garlic, peeled and finely chopped
Salt (to taste)
1 crust baguette
30g parmesan, peeled
Black pepper (to taste)
Method
Preheat the oven to 180*C. Start with making the butter. Place the butter, herbs, garlic and salt in a small saucepan and warm up, until the butter is melted over a low heat.
With a small serrated knife cut out 4 holes in the baguette, roughly 6-8 cm wide and 3 cm deep. Remove the bread gently, making sure that you haven't damaged the crust at the bottom of each hole. Brush each hole with the garlic butter. 
Put the baguette on a baking tray lined with baking parchment. Put the tray in the oven and warm up well for about 3-4 minutes. Take the tray out of the oven and crack one British Lion egg into each hole. Put the tray back in the oven and bake for 10-15 minutes, until the egg whites are set. Take the tray out and transfer the baguette onto a chopping board. Leave for a minute to cool down, then cut into 4 slices. 
 Serve on a big plate, pouring over the rest of the butter (at this point you may have to melt it again), parmesan shavings and black pepper.
Cooks tips
You can use this recipe for dinner as well. Serve with a bowl of soup or leftover stew
Nutritional information, per serving:

| Calories | Carbs | Protein | Fat | Saturates | Salt |
| --- | --- | --- | --- | --- | --- |
| 535 | 34.2g | 14.9g | 38.8g | 22.5g | 1.9g |
Click on the stars to rate this recipe: