Curried scrambled eggs with spinach and smoked haddock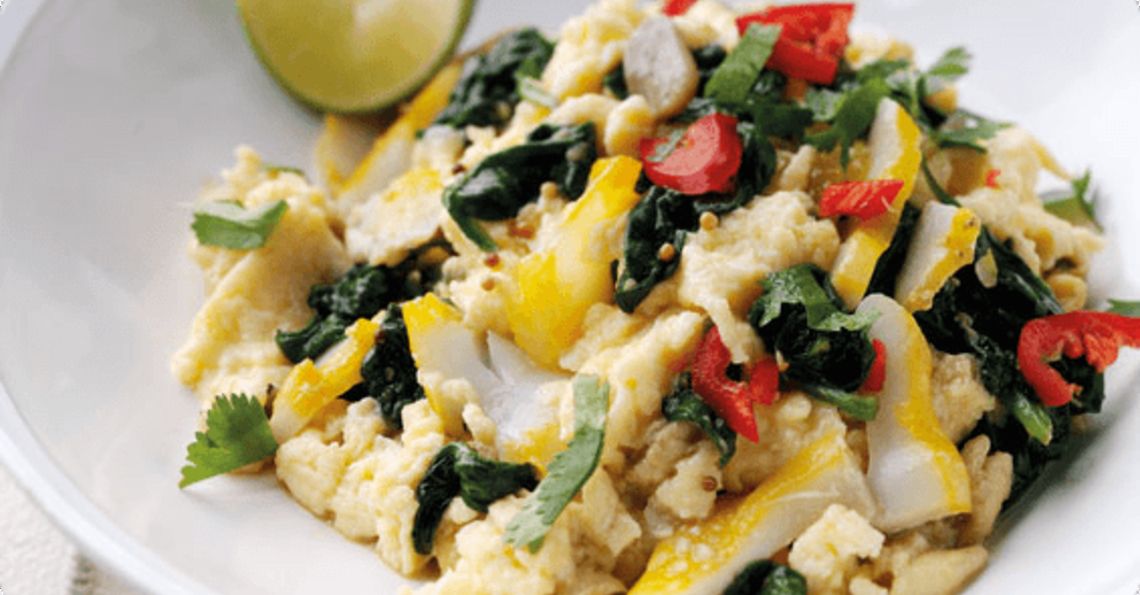 Serves: 2
Prep: 15 mins
Cook: 15 mins
A quick and tasty recipe - ideal for a lunch for two - by Sophie Wright.
Ingredients
6 British Lion eggs
200g baby spinach, washed
200g smoked haddock
2 tbsp vegetable oil
2 cloves garlic, finely sliced
1 tsp mustard seeds
1 tsp grated fresh ginger
2 tsp medium curry powder
Fresh coriander
1 red chilli, finely sliced
2 lime wedges
Method
Half fill a shallow sauce pan with water and place onto a medium heat. Add the smoked haddock (we've used dyed haddock but you can use undyed for equally delicious results!) and bay leaves and bring to a simmer before turning off the heat. Leave for 4 minutes or until the fish has turned opaque. Remove the fish from the water using a slotted spoon, flake the flesh from the skin and break into large pieces. Leave to one side.
Heat the vegetable oil in a large non-stick frying pan. Add the mustard seeds, allow them to toast and cook until they start to pop - this will release the flavour from the seeds. Turn down the heat, add in the garlic and ginger and cook for 2-3 minutes. Don't allow the garlic to burn as this will make the final dish bitter. Add the curry powder and a pinch of salt. Cook for another minute before adding the spinach. Stir well and allow the spinach to wilt. Season generously with black pepper.
In a large bowl, beat the eggs well. Once the spinach has completely wilted, turn up the heat and pour in the beaten eggs. Stir with a plastic spatula until the eggs are well scrambled.
Just before serving, fold in the cooked smoked haddock. Don't allow the flakes to break up too much.
When ready to serve, tip the curried eggs onto a big serving platter. Scatter with the fresh red chilli, lots of coriander leaves and a wedge of lime each.
Sophie says: This is a perfect carb-free meal!  Incredibly tasty, quick to prepare, cheap to buy and above all else...healthy!
Click on the stars to rate this recipe: