Egg hoppers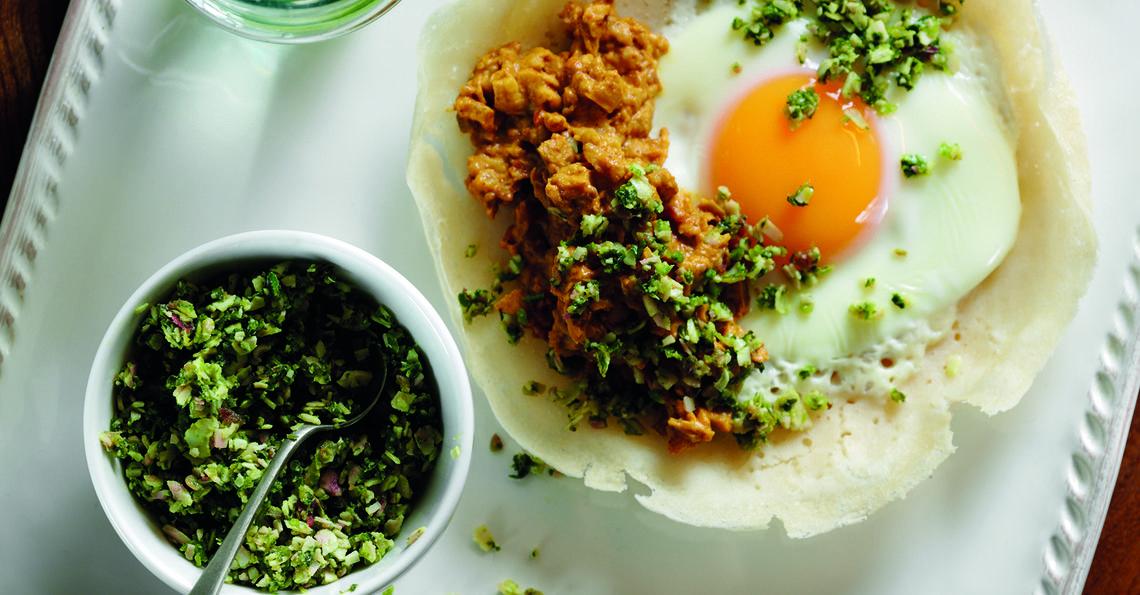 Serves: 2
Prep: 20 mins
Cook: 25 mins
Ingredients
For the hoppers…
1 tsp fast-action yeast
1 tsp sugar
150g rice flour
400g can light coconut milk
100ml coconut water
Sunflower oil, for frying
For the curry…
2 aubergines
1 tbsp sunflower oil
½ onion, sliced
1 tsp chilli powder
2 tsp garam masala
1 tsp mustard seeds
1 tsp grated root ginger
1 garlic clove, crushed
200g chopped tomatoes
100ml double cream
For the green sambal…
2 tbsp desiccated coconut
1 tbsp mint, chopped
1 tbsp parsley, chopped
½ shallot, finely chopped
2 green chillies, finely chopped
1 tbsp lime juice
Method
Whisk yeast, sugar, flour, coconut milk and a pinch of salt in a bowl. Cover with clingfilm and chill overnight.
Pierce and microwave the aubergines for 6-8 minutes (alternatively you can heat an oven to Mark 4/180C/160C fan. Pierce the aubergines and bake whole for 30-40 minutes until soft).
Allow the aubergines to cool slightly, halve and scoop out the flesh then roughly chop the flesh.
Heat oil in a large frying pan, add onion and cook for five minutes until soft. Stir in spices, ginger and garlic and cook for two minutes. Add tomatoes and cream and bring to a gentle simmer, cook for a further ten minutes. Stir in the aubergine and season to taste.
Mix all sambal ingredients together and set aside.
Add enough coconut water to the hoppers batter to make a thin batter the consistency of single cream.
Heat a small non-stick wok or deep-sided frying pan until hot and brush with oil. Add a fifth of the batter and swirl around the pan to create a thin layer of batter. Crack an egg into the middle and cook until the egg is just set and the batter is toasted and pulls away from the pan.
Leave for a minute before removing the pancake. Spoon in some curry and sambal and serve. Repeat with remaining ingredients.
Nutritional information, per serving:

| Calories | Carbs | Protein | Fat | Saturates | Salt |
| --- | --- | --- | --- | --- | --- |
| 454 | 36.0g | 13.3g | 28.9g | 15.0g | 0.2g |
Click on the stars to rate this recipe: