Moroccan spiced eggs and tomatoes with a minted yoghurt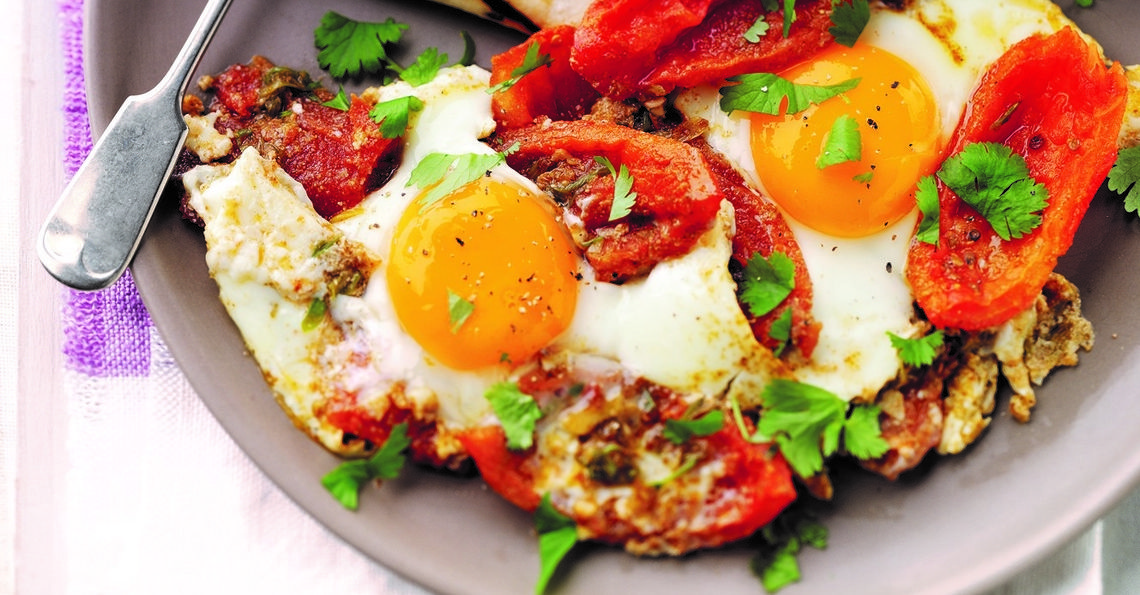 Serves: 2
Prep: 10 mins
Cook: 15 mins
A great brunch or lunch recipe full of flavour and it's healthy too.
Ingredients
4 British Lion eggs
250g plum tomatoes, quartered and deseeded
2 tbsp vegetable oil
2 cloves garlic, finely chopped
2 spring onions, finely sliced
2 tsp cumin powder
1 tsp coriander powder
½ tsp hot chilli powder
35g fresh coriander leaves
For the minted yoghurt:
150g fat-free natural or Greek yoghurt
35g mint leaves, chopped
½ tsp ground cumin powder
½ lemon
2 flat seeded flat breads, grilled until warm and a little crispy at the edges (optional)
Method
Mix the mint with the yoghurt, cumin and the lemon juice. Leave to one side.
Place a large non-stick pan on a low heat and add in the vegetable oil. Add the garlic to the pan along with the spring onion and cook for 2-3 minutes, stirring continuously so the garlic doesn't burn.
Add the spices and stir well. Next add in the deseeded tomatoes. Coat the tomato petals in the spices and cook until soft but not mushy! 6-8 minutes is plenty.
Make 4 gaps in the tomato mixture and crack in the eggs. Season the top of each egg with a small pinch of cumin and a little salt. Cook until the whites are firm but the yolk is runny. Grill the flat breads in the meantime.
Once the egg and tomato dish is ready, you can ether serve it in the pan or scoop it out onto a plate with the grilled flatbreads.
Scatter over the fresh coriander and serve with the minted yoghurt on the side.
Sophie says: I love this dish... it ticks all the boxes! Healthy, quick to prepare and cook, minimal shopping, reasonably priced ingredients and extremely satisfying to eat!  Breakfast, lunch or dinner...this dish is a winner.
Click on the stars to rate this recipe: