Eggs Benedict pancakes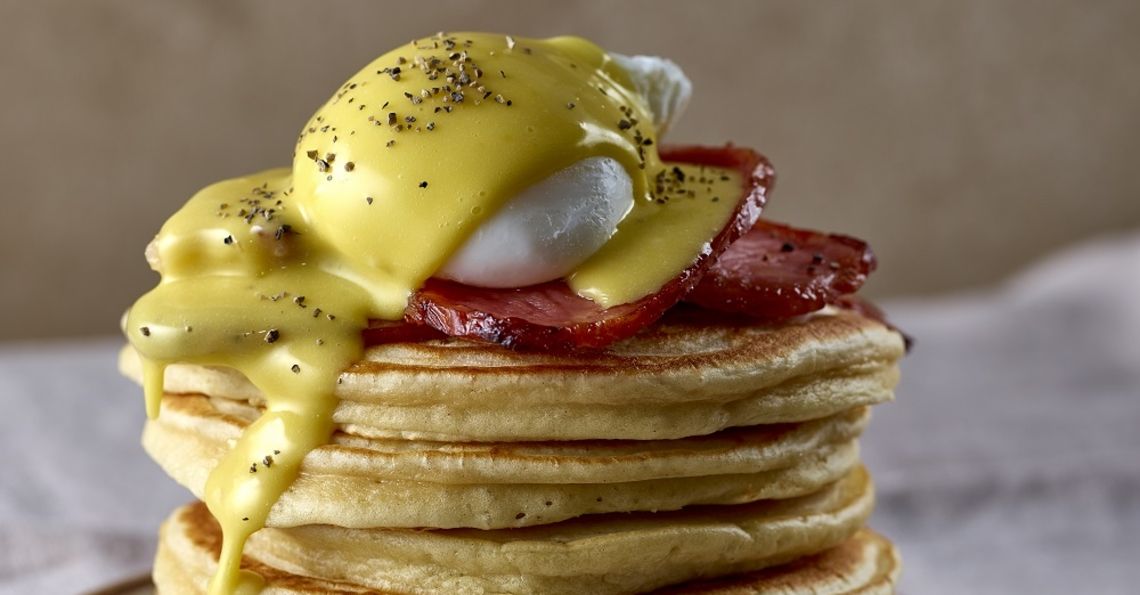 Serves: 1
Prep: 5 mins
Cook: 20 mins
Ingredients
3 medium British Lion eggs
130g self-raising flour
1 tbsp caster sugar
1 tsp baking powder
Pinch of salt
2 tbsp unsalted butter, melted and cooled
100ml whole milk
2 slices smoked back bacon
2 tbsp hollandaise sauce
Salt and pepper to season
Method
Start with making the pancake batter. In a medium size mixing bowl, combine all of the dry ingredients - flour, sugar, baking powder and salt. 
In a separate bowl mix together the butter, two British Lion eggs and milk. Gradually pour the wet ingredients over the dry and whisk until the batter is smooth and there are no lumps of flour. 
Warm up a teaspoon of oil in a small frying pan over a medium heat. When the oil is hot pour 2 tablespoons of batter into the centre of the pan and shape with the back of the spoon into a round disc. Cook for 2 minutes on the first side, then flip and cook for another 2 minutes until the pancake is golden brown. Transfer into a cooling rack and cook the rest of the mixture. 
Poach the remaining British Lion egg. Bring a deep saucepan of water to a boil. Add the vinegar. Stir the water, crack the egg and carefully tip it into the centre of the saucepan. Cook for 3-4 minutes. Lift the egg out and drain it on a piece of kitchen paper.
Warm up a small frying pan over a medium heat. Put the bacon in the centre of the pan and fry until browned, for 2-3 minutes. Then flip and cook for another minute.
In a small saucepan, warm up the hollandaise.
To serve, stack the pancakes and place the bacon and British Lion egg on top. Pour over the hollandaise and season with salt and pepper.
 
Cooks tips
If you're not a hollandaise fan, use maple syrup instead!
You may also like: How to make pancakes - our easy to follow step by step recipe.
Nutritional information, per serving:

| Calories | Carbs | Protein | Fat | Saturates | Salt |
| --- | --- | --- | --- | --- | --- |
| 1228 | 125.4g | 42.8g | 65.3g | 34.3g | 5.4g |
Click on the stars to rate this recipe: