Lacy pancakes with rosewater berries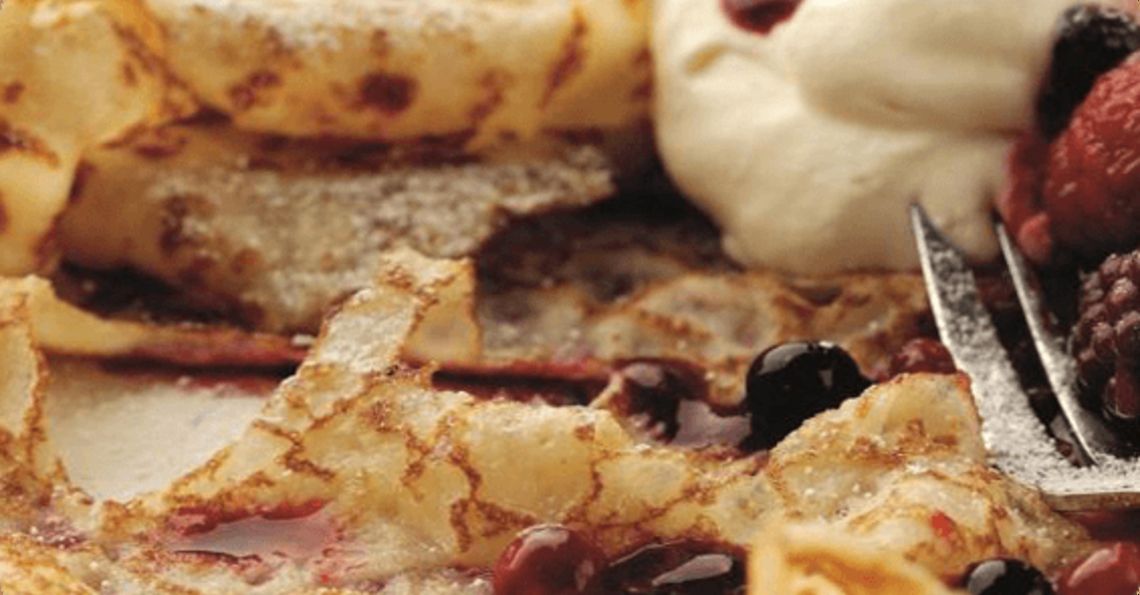 Serves: 4
Prep: 20 mins
Cook: 20 mins
A delicious way to serve pancakes
Ingredients
110g plain flour
pinch of salt
2 large British Lion eggs
200ml milk mixed with 4 tbsp water
2 tbsp melted butter
290ml/½ pint double cream, whipped
1 vanilla pod seeds, removed
2 tsp icing sugar
For the topping:
2 tsp rosewater
200g frozen mixed fruits
100g caster sugar
50ml water icing sugar and mint, to serve
Method
For the rosewater berries: place the berries, caster sugar and rosewater in a pan, bring to the boil and simmer for 5 minutes until the berries are beginning to soften.
Sift the flour and add the salt. Mix in the eggs, then the milk and water mixture. Add the butter just before using the batter. Pour the batter into a squeezy dressing bottle or a jug.Heat a 20cm diameter non-stick frying pan until hot, drizzle a little oil over the centre and wipe it around with a piece of kitchen paper.
Squeeze or drizzle a little batter in a circle around and then drizzle the mixture all over the middle of the pan to form a lacy pancake. 
When cooked, flip over and cook for a further minute.  
Separate the pancakes with layers of greaseproof paper.
Serve the lacy pancakes with the berries, a dollop of cream and a dusting of icing sugar.
Click on the stars to rate this recipe: