MOB Kitchen's Onion Bhaji with poached egg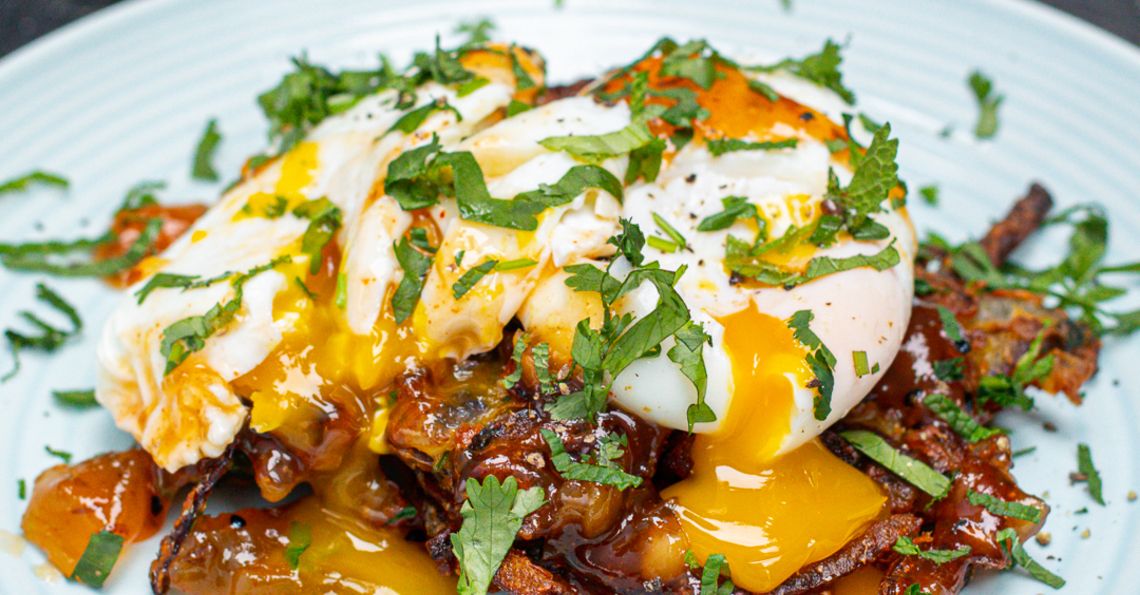 Serves: 4
Prep: 10 mins
Cook: 20 mins
Spice up your brunch with these crispy bhajis - top with poached British Lion eggs for the best breakfast ever.
Ingredients
4 Red Onions
Handful of Coriander Leaves
3cm Ginger, grated
1 Tsp Ground Coriander
1 Tsp Cumin Seeds
1 Tsp Curry Powder
1 Tsp Baking Powder
1 Tbsp Gram Flour
100ml Water
8 British Lion eggs
Mango Chutney, to serve
Salt
Method
Slice your red onion, chop your coriander and grate your ginger. 
Add the red onion, ginger, 3/4 of the coriander leaves, ground coriander, cumin seeds, curry powder, baking powder, gram flour, a pinch of salt, and water into a mixing bowl. Mix the ingredients with your hands until combined.
Pour a glug of vegetable oil into a frying pan. Take a small handful of the bhaji mixture and shape using your hands. Once the oil is hot, add your shaped bhajis into the pan and fry for a few minutes on each side, until crisp and golden brown. Set aside and repeat until all the bhaji mixture has been used
Fill a large saucepan with water and bring to a boil. Add a pinch of salt, then stir the water with a wooden spoon to create a whirlpool effect. Crack your British Lion egg and gently lower into the centre of the pan. Cook for 3-4 minutes until your whites are set but your yolks are still beautifully runny. Repeat this step for each egg. 
Stack two bhajis on a plate and pop two poached eggs on top. Drizzle with mango chutney and sprinkle on the remaining coriander. Dig in!
Click on the stars to rate this recipe: