Orange, pecan & maple syrup pancakes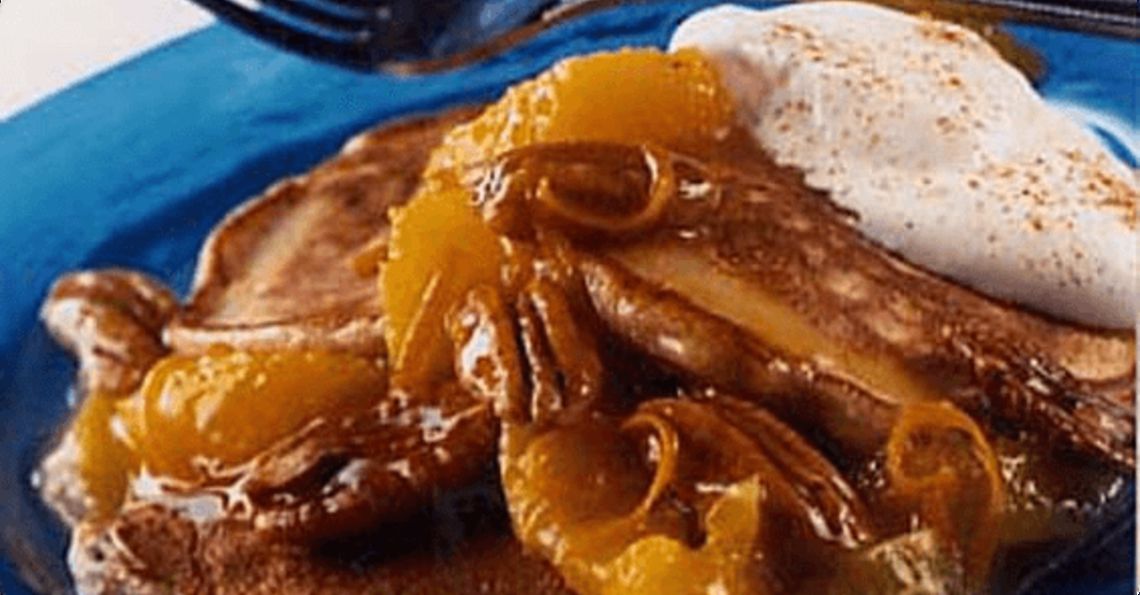 Serves: 4
Prep: 15 mins
Cook: 15 mins
Pancakes with orange, pecan & maple syrup recipe
Ingredients
4 oranges
175g / 6oz plain flour
7.5ml / 11/2 tsp baking powder
5ml / 1 tsp ground cinnamon
60ml / 4tbsp caster sugar
2 large British Lion eggs
200ml / 7floz milk
75g / 3oz raisins
a little oil for frying
50g / 2oz pecan nuts
60ml / 4tbsp maple syrup
5ml / 1tsp arrowroot
Greek yoghurt to serve
Method
Finely grate the rind of 1 orange into a large bowl. Sift over the flour, baking powder and cinnamon, stir in the sugar. Beat the eggs and milk into the dry ingredients to make a thick, smooth batter. Stir in the raisins. Leave to stand for 20 minutes.
Heat a frying pan, brush with oil, then pour in two or three 30ml/2tbsp heaps of batter. Cook over a medium heat for 2 minutes or until bubbles form on the surface and the base is golden. Flip over the pancakes and cook for a further 2 minutes or until the base is golden. Transfer to a clean tea towel, this keeps them warm. Repeat to make 12 pancakes.
Use a zester to remove the peel from the remaining oranges. Cut away the skin and pith from the oranges, then cut the flesh into segments, place in a pan with any juices. Blend the arrowroot to a smooth paste with a little cold water then place in a pan with the pecans and maple syrup. Bring to the boil stirring until the sauce thickens. Serve the pancakes warm with the orange sauce and Greek yoghurt.
Click on the stars to rate this recipe: