Pancakes flavoured with heather honey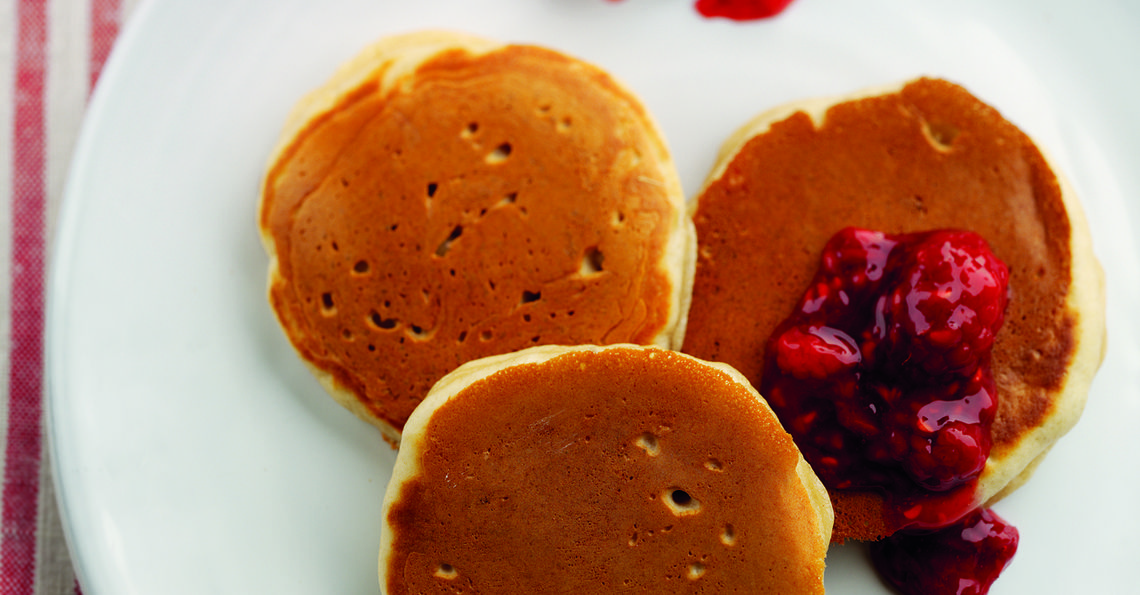 Serves: 24
Prep: 10 mins
Cook: 15 mins
Ingredients
225g plain flour
1 tsp bicarbonate of soda
1/2 tsp baking powder
2 large British Lion eggs
75ml milk
1 tbsp lemon juice
4 tbsp heather honey
A little oil for greasing
For the quick raspberry jam:
300g frozen Scottish raspberries
120g caster sugar
Juice of half a lemon
2 tsp ground arrowroot
Method
To make the pancakes: sift the flour, bicarbonate of soda and baking powder into a large bowl. Make a well in the centre of the ingredients. Beat together the eggs, milk, lemon juice and honey, then pour into the well in the dry ingredients. Gently fold together with a large metal spoon until a smooth thick batter forms.
Brush a flat griddle pan or frying pan with a little oil and when hot, add two or three spoonfuls of the mixture, well apart in the pan. Cook for a few minutes until bubbles appear on the surface and the base is golden. Flip over and cook for a further couple of minutes until the base is golden. Keep warm in a clean tea towel whilst you use the batter to make a total of 24 pancakes in the same way.
For the raspberry jam: place the raspberries and caster sugar in a medium pan along with the lemon juice. Slowly bring to the boil, and then boil for 2 minutes until the juices have run. Mix the arrowroot to a smooth paste with a little cold water, add to the raspberries and bring to the boil, stirring until the juices have thickened slightly. Leave to cool. Once made this quick jam can be stored in the fridge for up to a week.
 Serve two or three pancakes per person with the raspberry jam spooned over.
Click on the stars to rate this recipe: