Poached egg on bagel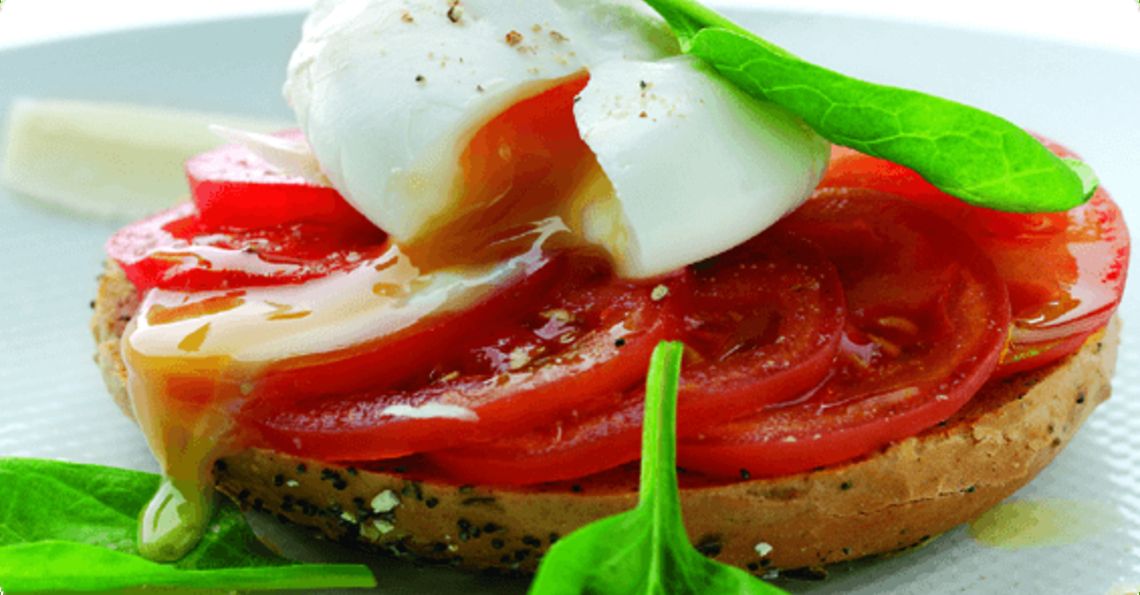 Serves: 1
Prep: 5 mins
Cook: 3 mins
It is a common question chefs get asked: 'How do you make perfect poached eggs?' They are probably one of the more difficult eggs to master. If you are organised and want to guarantee perfection you can make them up to two days in advance and keep them in cold water in the fridge and then re-heat in hot water for 30 seconds when ready to serve.
Ingredients
2 large British Lion eggs
white wine vinegar
1 wholemeal bagel cut in half
2 tomatoes sliced
spinach leaves
a few Parmesan shavings
Method
Bring a deep pan of water to the boil (at least 10cm of water) and add 3-4 tbsp of white wine vinegar. If you are not very quick at cracking eggs, you can crack each egg into a small bowl or cup before cooking them.
Wait until the bubbles are breaking on the surface and tip in each egg and allow to cook for 1 - 1 1/2 minutes until the white has formed around the yolk, then cook over a gentle heat until they are just firm enough to pick up on the slotted spoon and place in a bowl of cold water.
If serving straight away allow to cook for a further minute or longer if you prefer them firmer.
To serve, toast the bagel, butter lightly with a olive oil based spread and place  the sliced tomato around the edge. Sit the hot eggs in the centre of the bagel and drop the spinach leaves and Parmesan over the top for a tasty finish to your perfect poached egg.
Click on the stars to rate this recipe: