Quinoa and egg salad with broccoli & seeds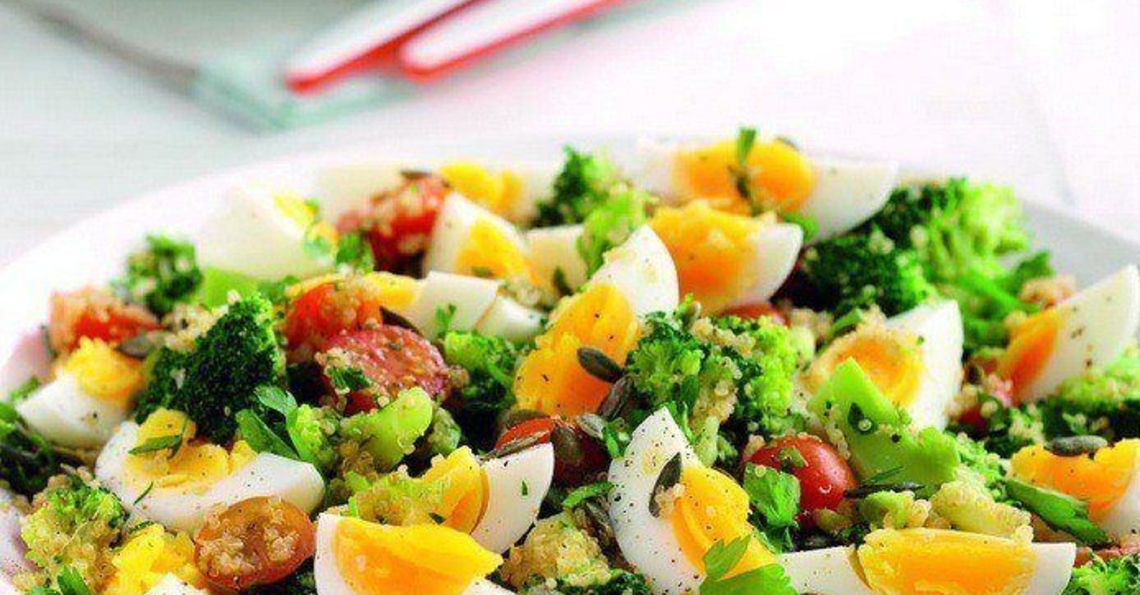 Serves: 4
Prep: 10 mins
Cook: 20 mins
Ingredients
175g quinoa
400ml vegetable stock
6 large British Lion eggs
175g broccoli florets
4 tbsp. pumpkin seeds
4 spring onions, trimmed and sliced
150g cherry tomatoes, halved
3 tbsp. chopped fresh flat leaf parsley
3 tbsp. olive oil
Half a lemon, zest and juice
Salt and freshly ground black pepper
Watercress salad to serve
Method
Rinse the quinoa in a sieve and place in a medium pan. Pour over the stock and bring to the boil. Cover and simmer for 20 minutes or until the water has been absorbed. Drain any liquid from the quinoa then return to the pan and leave it covered in the pan for 5 minutes - this will make for fluffy grains. 
Meanwhile, place the eggs in a medium pan, cover with cold water. Bring to the boil over a moderate heat, then boil for 7 minutes. Remove the eggs from the heat, drain and rinse in cold water. Tap the shells all over, then peel away and discard. Rinse the eggs then cut each into quarters. 
Bring a medium pan of water to the boil, add the broccoli florets and cook for 3 minutes, drain and rinse until cold in running water. Drain.
Toast the pumpkin seeds in a small pan, until they start popping. Empty them into a serving bowl, add the quinoa, broccoli, spring onions, tomatoes, parsley, oil, lemon and mix well. Season to taste. Then gently stir through the hard boiled eggs. Serve with a little watercress salad if liked.
Click on the stars to rate this recipe: