Spanish-style sweet potato, mushroom and feta tortilla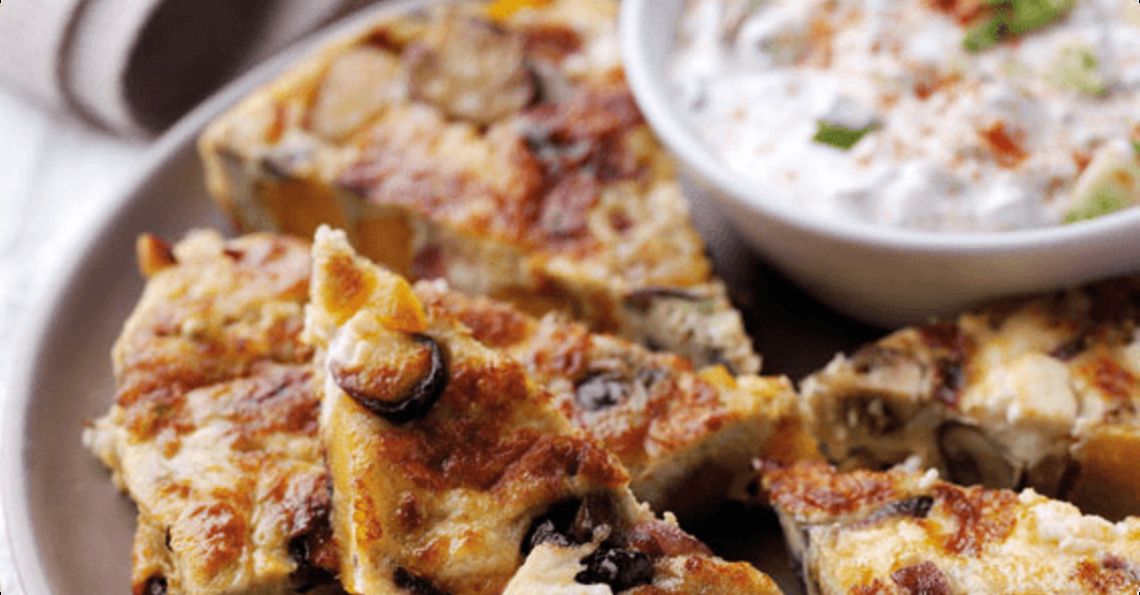 Serves: 4
Prep: 10 mins
Cook: 10 mins
A twist on the classic Spanish recipe.
Ingredients
12 British Lion eggs, beaten
2 orange flesh sweet potatoes, peeled and cut into 2 cm dice
180g feta cheese, diced
16 button mushrooms, thinly sliced
1 onion, halved and sliced
Olive oil
Salt
Pepper
For the dip:
Small pot of sour cream (about 150 ml)
6 spring onions, finely sliced
A little smoked paprika / paprika
Method
Use a non-stick pan for the best results. Heat the pan and add about a tbsp of olive oil.
Add the sweet potatoes and gently fry, allowing them to lightly colour. Set aside in a bowl.
Add the mushrooms to the pan and allow them to colour slightly. Add to the sweet potato bowl. Reduce the heat, add the sliced onions and cook them until they are soft and translucent. Add to the bowl.
Pour the eggs onto the vegetables in the bowl and add the feta cheese. Season with salt and pepper and mix gently.
Wipe the pan, add a little olive oil and increase the heat. Pour the egg mix into the pan.
Allow the tortilla to cook and set slightly. Meanwhile, make your dip by mixing the sliced spring onions and sour cream with a dusting of paprika.
Turn the tortilla by placing a plate on top of the pan and turn it over. Slide it back into the frying pan so that the uncooked side of the tortilla is now on the base of the pan.
Once cooked, serve with the dip.
Click on the stars to rate this recipe: