Tastemade's summer veg soufflé omelette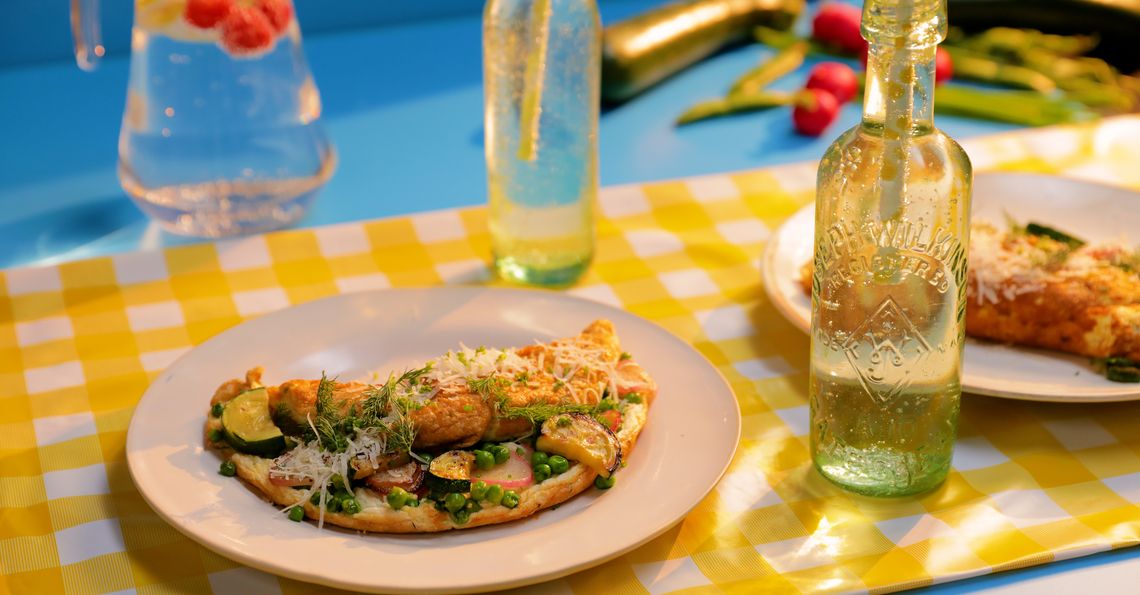 Serves: 1
Prep: 15 mins
Cook: 10 mins
Ingredients
2tbsp olive oil
1/2 small courgette, chopped into half moons
1 garlic clove, grated
75g peas
Handful radishes, sliced
3 British Lion eggs, separated
75 ml sparkling water
¼ tsp cream of tartar
2 tbsp chopped herbs (chives & dill)
25 g grated parmesan, plus 25 g
Salt and freshly ground pepper
To serve:
Grated parmesan
Chopped chives
Dill fronds
Method
1. To make the omelette, turn your grill on to medium heat. Separate your British Lion eggs, putting the yolks in a small bowl and the whites in a large bowl. Add the sparkling water and cream of tartar to the egg whites and whisk to medium peaks. Add the egg yolks, chives, dill, 25g of parmesan and some salt and pepper and fold together to combine, moving the mixture around carefully to avoid knocking any air out.
2. Heat a small non-stick frying pan on a low to medium heat and add 1 tbsp of oil. Carefully slide the souffle mixture into the pan and give it a little shake to spread it to the edges. Allow this to cook for 1 minute then sprinkle the remaining parmesan across the surface and place the frying pan under the grill. 
3. Let it cook for 1 – 2 minutes until the cheese has melted and is going lightly golden. Take the pan out the oven and allow it to sit for 2 minutes.
4. Meanwhile, add the remaining tbsp of the olive oil in a large deep sided frying pan and once hot, add the courgette. Fry for 2 minutes until softened slightly then add the garlic and radishes. Cook for a further 2 - 3 minutes until the vegetables are cooked through. Remove from the heat, season with salt and pepper and stir through the peas.
5. Add your cooked veggies to one side of the omelette whilst still in the pan and carefully fold the other side over to encase the vegetables. Gently slide onto a serving plate, sprinkle on some more grated parmesan, chopped chives and dill, if desired, and serve immediately.
Click on the stars to rate this recipe: