Aubergine yoghurt with spice-crusted eggs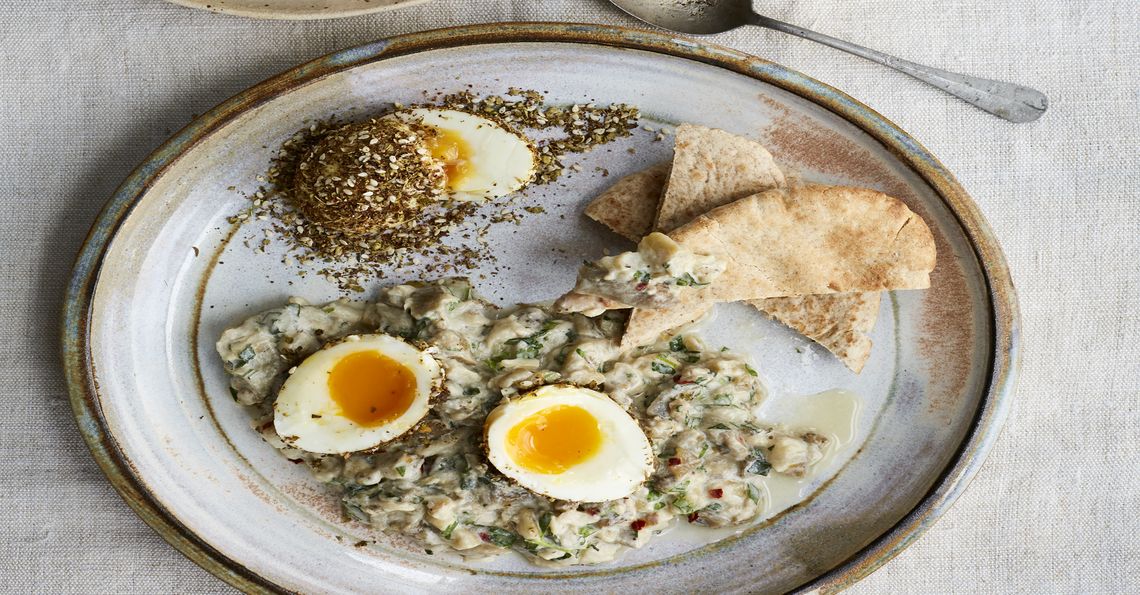 Serves: 2
Prep: 5 mins
Cook: 45 mins
Ingredients
2 aubergines
5 tbsp plain yoghurt
1 garlic clove, peeled and crushed
Juice of half a lime or lemon
1/2 tsp chilli flakes
1 heaped tbsp fresh mint, finely chopped
2 heaped tbsp fresh coriander, finely chopped
Salt
2 tbsp za'atar spice mix
2 large British Lion eggs
2 pitta breads, warmed
Method
Poke the aubergines all over with a fork or knife. Place into a roasting dish and roast for 30-40 minutes until completely softened. Leave to cool before cutting in half, scooping out the flesh and discarding the skins. Roughly chop the flesh into small pieces then place into a bowl.

Add the yoghurt, garlic, lime juice, chilli flakes, fresh mint and coriander into the bowl of aubergine and stir together. Taste and season with salt as preferred. Place into a serving dish.

Bring a small pan of water to the boil then turn the heat down to low. Lower in the eggs and let cook for 5 minutes. Remove the eggs from the water and place into a bowl of cold water until cool enough to handle. Tap the eggs on a surface to crack the shell then carefully peel off and discard.

Place the za'atar into a small, wide bowl and roll the peeled eggs in it to coat. Cut in half and place onto the aubergine yoghurt then sprinkle with a pinch of salt.

Serve immediately with warm pitta breads.
Nutritional information, per serving:

| Calories | Carbs | Protein | Fat | Saturates | Salt |
| --- | --- | --- | --- | --- | --- |
| 388 | 55.1g | 22.5g | 10.4g | 3.6g | 1.5g |
Click on the stars to rate this recipe: