Beetroot Steeped Wasabi Eggs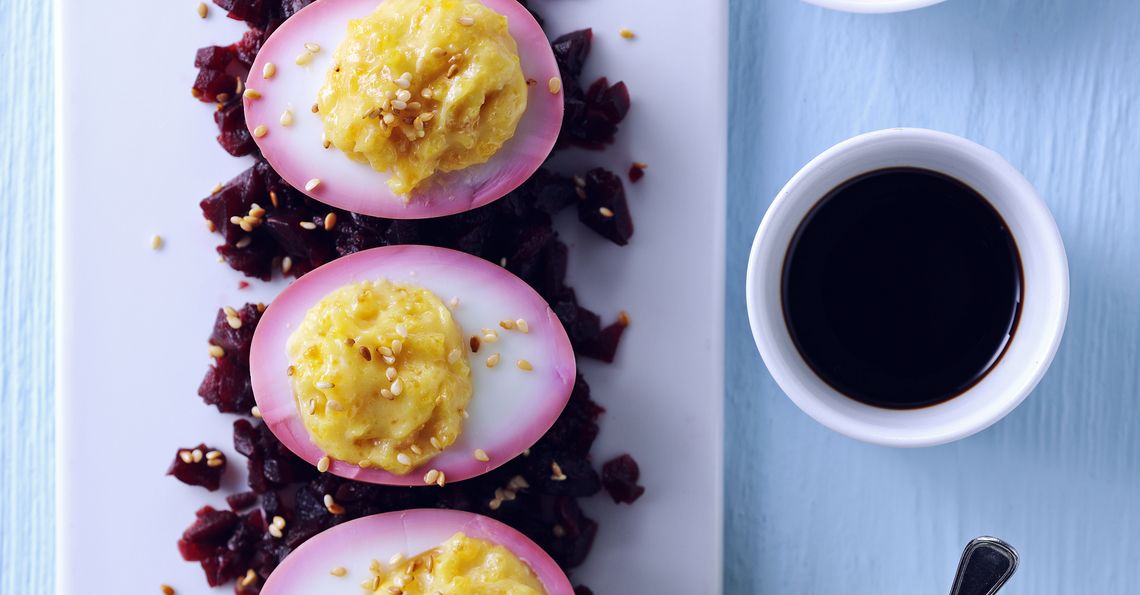 Serves: 4
Prep: 10 mins
Cook: 5 mins
Prep time: 10 minutes (plus 1 hour chilling time)
Ingredients
6 large British Lion eggs
4 cooked beetroot, finely chopped
2 tsp wasabi paste
2 tbsp mayonnaise
A pinch of salt and freshly ground black pepper
2 tsp toasted sesame seeds
Sushi ginger and soy sauce to serve
Method
Place the eggs in a small pan, cover with 2.5cm cold water and place the pan on a high heat. When the water is almost boiling, gently stir the eggs and set the timer for 5 minutes.
Drain the eggs, and rinse in cold running water. When cool enough to handle, tap the shells all over and peel away. 
Drain the peeled eggs then place in a food bag.
Add the chopped beetroot, and mix to coat the eggs. Seal and refrigerate for at least 2 hours or longer if time allows - the colour will be deeper the longer they steep.
Remove the eggs from the beetroot, quickly rinse and pat dry on kitchen paper. Cut the eggs in half and scoop the yolks into a bowl. 
Mix with the wasabi, mayonnaise and seasoning to taste, then heap back into the egg whites.
 Spread a layer of beetroot over the base of a rectangular dish. Arrange the eggs cut side up on the beetroot-lined dish, sprinkle with the sesame seeds and serve with pickled ginger, more wasabi and soy sauce on the side.
Nutritional information, per serving:

| Calories | Carbs | Protein | Fat | Saturates | Salt |
| --- | --- | --- | --- | --- | --- |
| 215 | 8.0g | 13.4g | 14.8g | 8.6g | 0.8g |
Click on the stars to rate this recipe: