Baked crab & egg gratin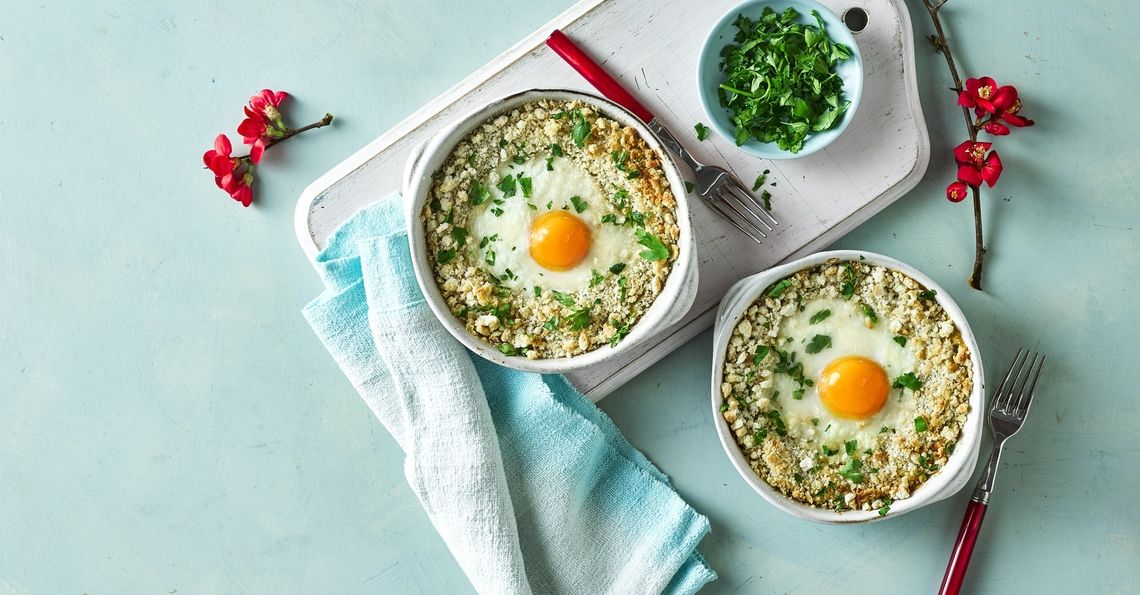 Serves: 4
Prep: 25 mins
Cook: 20 mins
Want to make something special for your nearest and dearest this Easter? This comforting recipe will be perfect for a family brunch or even lunch
Ingredients
50g unsalted butter
1 onion, finely chopped
4 tbsp plain flour
300ml chicken or vegetable stock
100ml single cream
300g white crab meat
1/2 lemon, juiced
15g flat leaf parsley, roughly chopped, plus extra to garnish
1 tsp hot pepper sauce
8 tbsp fresh breadcrumbs
4 British Lion eggs
40g parmesan, grated
Method
1.  Heat the oven to 200C/180C fan/gas 6. In a large saucepan, melt the butter over a gentle heat. Add the onion and fry for 5 mins over a medium heat until softened. Add the flour and stir to make a paste. Cook for 1 min or so until the mixture starts to bubble and smells biscuity.
2.  Slowly add the stock, stirring all the time, then add the cream. Bring to a gentle simmer until the mixture starts to thicken. Season to taste, then stir in the crab meat, lemon juice, parsley and hot pepper sauce. Divide between four small gratin dishes or large ramekins (about 300ml) and leave to cool.
3.  Sprinkle a little breadcrumbs, then make an indentation in the middle of each dish and crack in an egg. Let the white spread a little – this will help the cooking. Sprinkle over a little parmesan over each and bake for 20-25 mins until the eggs have set and the crumb is golden (if the yolk starts to cook too quickly, loosely cover the gratin with foil). Scatter with the extra parsley to serve.
Cooks tips
Struggling to source crab? This recipe will work just as well using smoked mackerel as an alternative
Click on the stars to rate this recipe: