Bimbimbap with fried egg and gochujang sauce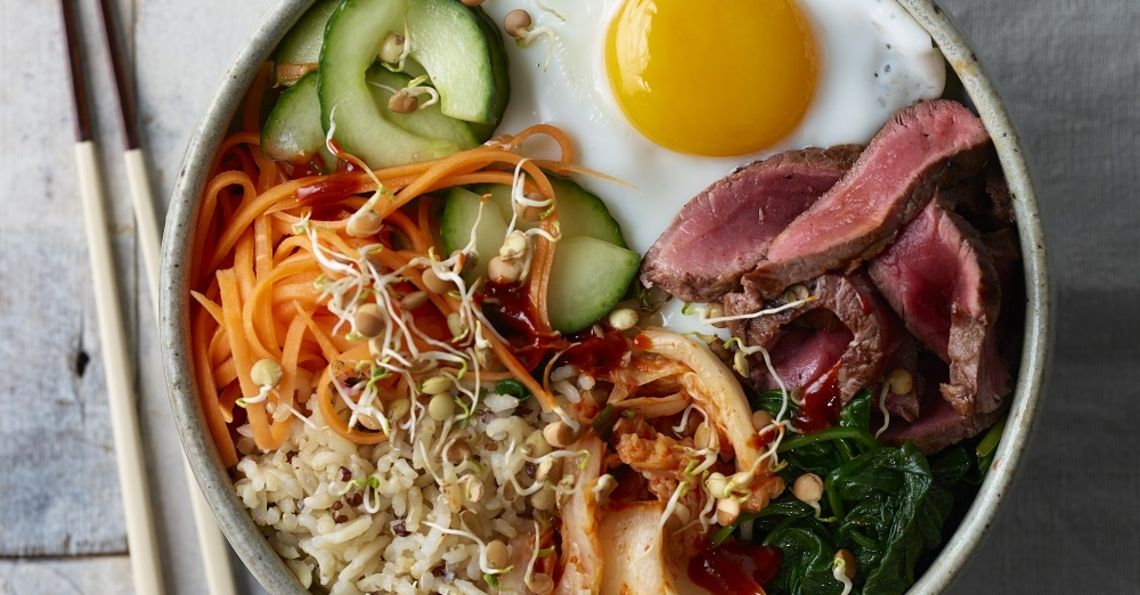 Prep: 10 mins
Cook: 25 mins
This dish will be a perfect dinner for a cold winter day. Sweet, sour and spicy flavours will keep you warm
Ingredients
1 medium British Lion egg
200g short grain brown or brown basmati rice
100ml water
100ml cider vinegar
50g sugar
½ cucumber, halved, de-seeded and sliced
1 small carrot, julienned
1 tbsp rapeseed oil
1 steak (approx. 200g)
Salt and pepper (to taste)
Knob of butter
50g baby spinach
50g kimchi
1 tbsp Gochujang paste
1 tbsp water
½ maple syrup
½ soya sauce
1 tbsp salad toppers or cress
Method
Start with cooking the rice. Follow the instructions on the packaging. Leave the cooked rice in the pan and cover with a lid.
Make the pickles. Place the julienne of carrot and cucumber slices in a bowl. In a small saucepan, bring water, vinegar and sugar to a boil over a low heat, stirring continuously.
Pour the pickling liquid over the carrot and cucumber and cover the bowl with a plate.
Warm the rapeseed oil on a griddle pan over a medium heat. Season both sides of the steak with salt and pepper. When the oil is hot (almost smoking) add the steak to the pan and cook for 2 minutes. Flip and cook for another 2-3 minutes, depending on how cooked you want it to be. Take the pan of the heat and rest the steak for at least 5 minutes before you slice it finely.
In a small frying pan, melt the butter over a medium heat. Add the egg and fry until the egg white sets but the yolk is still runny. Take the egg off the pan and transfer into a plate.
Use the same frying pan to cook the spinach. Simply add it to the pan, season with salt and pepper and stir until well wilted.
Make the Gochujang sauce. In a small bowl mix together the paste, water, syrup and soy sauce. Taste and add more soy sauce or maple syrup, if needed.
Assemble your bibimbap by putting the rice in a wide bowl, then topping it with the pickles, steak, delicious fried egg, spinach and kimchi. Keep all the ingredients separate and decorate by sprinkling of favourite salad toppers and a drizzle of spicy gochujang sauce.
Cooks tips
If you don't have a julienne peeler you can use a standard potato peeler and then slice each carrot peel finely to get your perfect julienned pickles
If you don't have a julienne peeler you can use a standard potato peeler and then slice each carrot peel finely to get your perfect julienned pickles
Click on the stars to rate this recipe: